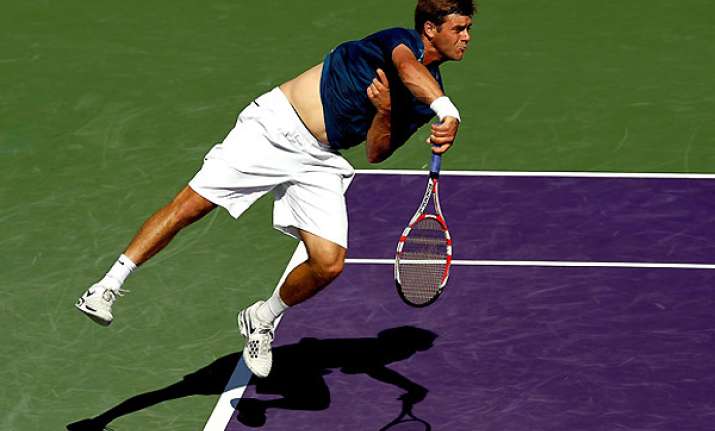 Paris, Apr 5: France captain Guy Forget believes the United States will be significantly weakened by the loss of Mardy Fish in their Davis Cup quarterfinal beginning Friday.
Both teams were rocked by withdrawals to key players this week.
The ninth-ranked Fish pulled out because of fatigue and was replaced by Ryan Harrison, while Forget is without the 14th-ranked Gael Monfils, a former French Open semifinalist, because of an abdominal injury.
"I think these last-minute withdrawals are more harmful for them than for us," Forget said. "The American captain doesn't have a choice in singles. He can't choose one of the Bryan brothers. So Harrison will play on Friday.
"I thought Jim Courier might have called up Sam Querrey or even Andy Roddick. Harrison is a player for the future. We don't really know his true potential."
Courier, who won French Open titles in 1991-92, was tightlipped about why he chose the 19-year-old Harrison, who has never played a live Davis Cup tie, for the clay-court matchup at the Monte Carlo Country Club.
"A lot factors in the choice," he said. "Ryan was the best man for the job. That's why he's here."
Harrison faces a tall order against sixth-ranked Jo-Wilfried Tsonga.
"Obviously Jo is a great player," Harrison said. "I'm just excited for the opportunity."
Forget had to choose Gilles Simon or Richard Gasquet to replace Monfils, although in the end it didn't take long.
"I spoke to them both on the phone, after 45 seconds of speaking to each one my choice was made," he said. "Richard told me he was suffering with his elbow. He felt like he couldn't serve properly in a five-set match on clay."
This is the 16th match between the nations dating back to 1905, with the U.S. leading 8-7 overall, and winning the last meeting 4-1 at home in the 2008 quarters.
"France is a very deep team ... there are going to be five tough matches for us," Courier said. "We have to play our best to stand a chance. We did that with Switzerland. We'll be well prepared."
France's victory in the doubles four years ago handed the world's top-ranked doubles pairing Bob and Mike Bryan only their second loss together in Davis Cup, and they have not lost since.
Only the Bryans, and Michael Llodra — who played alongside Arnaud Clement against the Bryans in 2008 — remain from those teams. The 31-year-old Llodra even played doubles in the 2002 semifinal, which France won 3-2.
"We've played Llodra for Grand Slam titles, we played him in the bronze medal match (at the 2008 Olympics)," Mike Bryan said. "We have probably played him at least 20 times. He's beaten us a bunch. We've beaten him a bunch."
The United States has won 32 Davis Cups, France nine.
Both countries won their first-round matches easily, France beating Canada 4-1 in Vancouver, the Americans trouncing Switzerland 5-0 on indoor clay in Fribourg.
Harrison, ranked 66th, beat Michael Lammer but that was in a dead rubber. However, he is not fazed about taking on the French on clay.
"Where I grew up in Louisiana I had 12 clay courts, and I grew up playing (on clay), so I'm very comfortable sliding," he said.
He will be the lowest-ranked player to play a live singles match for the Americans since Fish — then ranked 74th — in the first round in Croatia in 2003.
Harrison lost in the French Open first round last year, while Isner has never made it past the third round at Roland Garros. Still, Isner managed to beat 16-time Grand Slam champion Roger Federer in February.
"Isner's more than a big server, otherwise he wouldn't be among the world's best," Forget said. "He's a very complete player, very dangerous. Harrison's not as strong on paper, but we'll have to show our strength on court."
Without Fish, the 11th-ranked Isner knows the pressure is on him, although he is trying not to think that way.
"Obviously now I'm the No. 1," the 26-year-old said. "It doesn't change anything. I got to go out there on Friday and try to win a match for us."
Given that Simon is nursing a sore back and has little practice, Forget may pick Julien Benneteau, a French Open quarterfinalist in 2006, or Llodra for Friday's opening singles.
Simon and Llodra have both played against and beaten Harrison once. Isner is tied at 1-1 with Tsonga and Llodra, leads Benneteau 1-0 and Simon 2-0.
The winner of France-U.S. plays Spain or Austria in the semifinals in September.