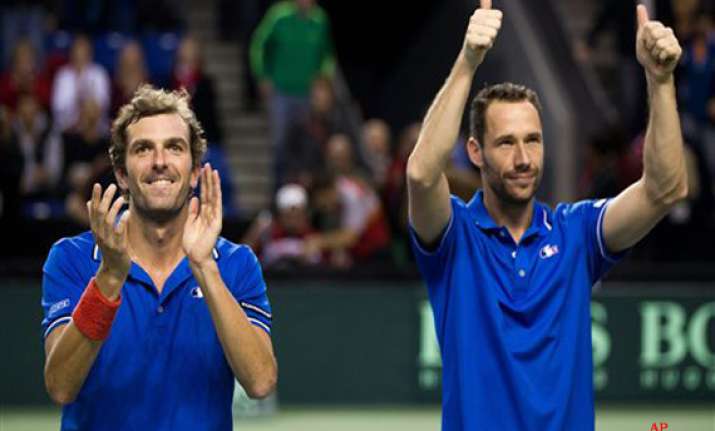 Vancouver, British Columbia, Feb 12 : France's Julien Benneteau and Michael Llodra defeated Milos Raonic and Daniel Nestor of Canada to take a 2-1 lead in their Davis Cup series after their doubles match Saturday.

The French pair cruised to a straight sets victory -- 7-6 (1), 7-6 (2), 6-3 -- in just over two and a half hours at Doug Mitchell Thunderbird Sports Centre to leave the tie firmly in the hands of the visitors.

"It was a difficult match even if it was three sets to love," Llodra said. "We played better in the tie breaks and it helps a lot to play good at the good moments.""Me and Julien were like a family on the court and we fought for the country."

In an evenly contested first set, both teams created break points opportunities but failed to convert until the French pair dominated the tiebreaker, with Llodra, ranked fifth in the world in doubles, ending the set with a crosscourt winner.

France repeated the dose in the second-set tiebreaker with Llodra claiming the set with his eighth ace of the match after Benneteau had blasted an overhead that Nestor couldn't handle for a 6-2 lead.
France broke Nestor Before the match, Canadian captain Martin Laurendeau replaced Vasic Pospisil with the hard-hitting Raonic, a winner over Benneteau in the second singles match Friday

"We felt like we were doing an OK job we weren't playing poorly, but we weren't doing anything special and I think they played really well and maintained it the whole time," said Raonic. "I obviously said on Thursday that if I was needed I would be ready to play on Saturday and that was the decision we made and we stuck to it."

In the reverse singles Sunday, Raonic will face Jo-Wilfried Tsonga, and Pospisil will play Benneteau.

The winner of the best-of-five match series will play the United States in the quarterfinals in April, after the visiting Americans built an unassailable 3-0 lead over Switzerland earlier Saturday.

In the opening day's play Friday Raonic defeated Benneteau 6-2, 6-4, 7-5 to level the tie after Tsonga, No. 6 in the world, opened with a routine 6-1, 6-3, 6-3 win over 115th-ranked Pospisil in Canada's first match at the World Group level in eight years.