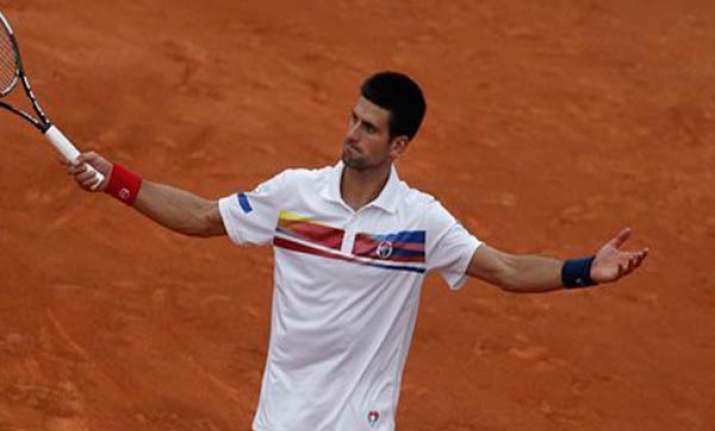 Paris,Jun 4 : Novak Djokovic said he knew his 43-match winning run would have to end, but insisted his heartbreaking French Open semi-final defeat to a rejuvenated Roger Federer will make him stronger. 
Djokovic suffered a stunning 7-6 (7-5) 6-3 3-6 7-6 (7-5) loss to Federer, which ended his hopes of making a first Roland Garros final and temporarily halted his bid to snatch the world No1 spot.

But the 24-year-old world No 2 was adamant he will learn vital lessons from the semi-final, which ended in the Paris gloom after three-and-a-half hours of gripping action.

"It was a great tournament. It was the best five months of my life and my tennis career. I cannot complain. It was definitely an incredible period.

"It had to end somewhere. I knew it was coming," said Djokovic.

"Unfortunately, it came in the bad moment. It was a big match today. But that's sport. I will keep on working hard."

Defeat also left Djokovic one win short of matching John McEnroe's 1984 mark of a 42-match winning start to a season.
There was a symmetry to the outcome as Federer had been the last man to beat Djokovic at the World Tour finals in November before the Serb went on his run, which yielded a Davis Cup, the Australian Open and six other titles.

Federer dominated the crucial parts of the semi-final.

He served 18 aces, the last of which secured him victory on a third match point, and carved out 25 break-point opportunities as Djokovic was forced constantly on the defensive.

But he came agonisingly close to stretching the tie into a fifth set when he broke to lead 5-4 in the fourth set and had the chance to serve it out before Federer took the tie break.

"He played an incredible match today, and all the credit to him," said Djokovic of a player he had defeated three times already in 2011.

"He went for the shots when he needed to. He served really well when he needed to serve well. But what happened, happened. I cannot affect it anymore. In some moments I was lucky; in some moments he was lucky.

"But this is sport. A couple of points really decide the winner, especially at this level. I was aware of that. There's not much to be sorry for."

Djokovic, who will skip the Queens grasscourt event to rest up before Wimbledon, does have an interest in tomorrow's title match between Federer and five-time champion Rafael Nadal.A defeat for the Spaniard will make him the new world No1 when the rankings are released on Monday.