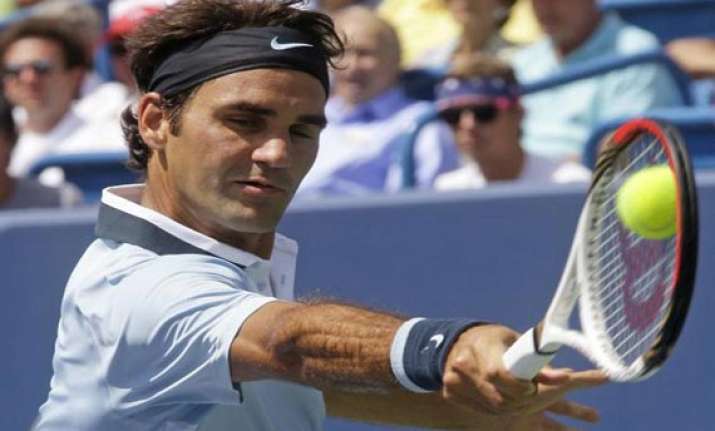 Mason: Roger Federer put aside his recent struggles with a come-from-behind win over veteran Tommy Haas on Thursday, booking a place in the quarterfinals of the Western & Southern Open.
Federer overcome a slow start to beat Haas 1-6, 7-5, 6-3 and emerge from his string of subpar showings since Wimbledon.
The fifth-seeded Swiss has been struggling to get his game back in shape since he was upset at Wimbledon by a player ranked 116th in the world. He has switched rackets and been limited by a sore back.
A return to a tournament he's won five times before including last year proved a tonic.
"I'm looking at the big picture and just playing matches again," Federer said. "I want to make sure I'm moving well and feeling fine. A match like this gives me a lot."
While Federer took a step, No. 1 Novak Djokovic got one win closer to a little ATP history. He needed only 50 minutes to beat qualifier David Goffin, 6-2, 6-0 and reach the quarterfinals.
Djokovic has lost four finals in Cincinnati, the only Masters series event he has yet to win. A victory would make him the first player to win all nine Masters.
"I played four times finals, so it's been one of the tournaments where I've performed well," Djokovic said. "Never managed to make the final step, and hopefully this year I can do so.
"I have an extra motivation and an opportunity to make history in this tournament, so I'm very inspired to play well day after day."
Also reaching the quarterfinals were second-seeded Andy Murray, unseeded John Isner, seventh-seeded Juan Martin del Potro and Russian qualifier Dmitry Tursunov, who upset third-seeded David Ferrer.
On the women's side, second-seeded Victoria Azarenka, fourth-seeded Agnieszka Radwanska, fifth-seeded Li Na and 14th-seeded Jelena Jankovic advanced to the quarterfinals.
A few hours after her win, Radwanska withdrew from the tournament so she could attend her grandfather's funeral. Li, who won the tournament last year, automatically moved into the semifinals.
It appeared that Federer wasn't long for the tournament after a stunningly bad start against Haas. The 35-year-old Haas needed only 31 minutes to win the first set and was up 4-2 in the second before Federer started to approach the net, hitting shots with confidence and taking control.
"You know, being down 6-1, 3-1, you don't feel like Superman out there," Federer said. "You feel a bit slower, you feel a bit weaker, you feel a bit softer, whatever it is. I was trying to push myself. But at the end, as the match wore on, I felt better.
"That's always good news."
Federer was beaten in the second round at Wimbledon by Sergiy Stakhovsky, his earliest exit from a Grand Slam event since 2003. That ended Federer's streak of reaching the quarterfinals in 36 straight major tournaments.
The improbable upsets were just starting.
"Every match gives me more info to tell me if I'm on the right path or not," he said. "But I'm a strong believer that I am on the right path right now, and I just need to make sure that mentally I stay cool about it.
"Today for a long time it wasn't looking good, but these are the kind of matches I need right now."
Tursunov pulled off the day's biggest upset, beating Ferrer 6-2, 6-4. The 44th-ranked Tursunov never lost his serve while reaching the quarterfinals for the first time in six appearances at the event.