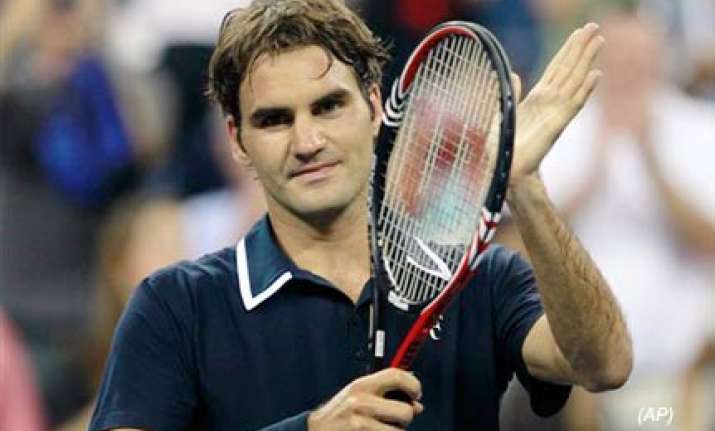 NEW YORK: Roger Federer delivered another YouTube-worthy, between-the-legs shot at the U.S. Open as he started with a comfortable victory over Brian Dubal of Argentina.
The five-time U.S. Open champion hit 18 aces in his 6-1, 6-4, 6-2 win over 96th-ranked Dabul, part of Federer's remarkable 46-4 advantage in winners Monday night.
"There's nothing you can do when he has those days," Dabul said. "He's perfect."
No shot was more spectacular than the one Federer came up with while leading 5-3 in the second set.
He was at the net when Dabul sailed a lob high overhead. Federer turned and sprinted toward the baseline. A few steps from the wall behind the court in Arthur Ashe Stadium, and with his back to the net, Federer smacked the ball through his legs.
The shot cleared the net and landed in a corner for a winner beside Dabul, who raised his eyebrows and shrugged his shoulders.
"Only he can do that," Dabul would say later.
At the far end of the court, Federer celebrated the trick shot by raising his arms overhead and lifting his right index finger to signal No. 1. It was nearly identical to a back-to-the-court, through-the-legs passing winner Federer hit against Novak Djokovic in the 2009 U.S. Open semifinals.
"This one was incredible again," Federer said. "I turned around and couldn't believe the shot landed in the corner."
Asked if Monday's shot was better than the one against Djokovic, Federer said he'd need to go to the videotape to be sure.
"In terms of difficulty, maybe this one was harder, because I had the feeling I had to run a longer distance and I was further back somehow," he said. "I had to really give the last big push at the end. I didn't have time to set it up."
And it most definitely was real, no argument about that _ unlike the trick shot that has drawn more than 6 million views since being posted on YouTube two weeks ago. In that clip, shot in Zurich shortly after Wimbledon, Federer is seen serving a ball and swatting a metal bottle off a man's head _ twice in a row.
Federer has been coy about the authenticity of the video, and some have been skeptical, such as two-time major finalist Andy Murray, who said this weekend: "There's not a chance it's real."
Told that other players have wondered aloud about that one, Federer replied: "I can't tell you if it's real or not. That's up for debate. ... I'm not going to answer that question."
Could he hit a ball between his legs and knock a bottle off someone's head?
"That's kind of tough, the trajectory going up," Federer said with a grin, before acknowledging, "No, I wouldn't be able to do that."
OK, so there are limits to his brilliance with a racket in hand. Still, Monday's result made Federer 16-0 in U.S. Open night matches, and he declared afterward, "I feel very much at home here."
"Obviously, I have the experience to play under pressure and with so many people, high expectations, so I guess I can use that to my advantage," Federer said. "Then court speed, surroundings, the event and everything helps my cause to really do well and play well here. I always loved coming here. Never had a bad U.S. Open."
That perfect mark under the lights has helped Federer reach six consecutive U.S. Open finals; the only loss in that stretch was to Juan Martin del Potro a year ago.
"I'd like to go there again this year," Federer said. "The path is long and rough."
His streak of 23 consecutive Grand Slam semifinals ended with a quarterfinal loss to Robin Soderling at the French Open, and Federer lost again at that stage at Wimbledon.
But Monday's victory clinched a berth in the season-ending ATP World Tour Finals at London in November, which is for the top eight men.
If there was anything for Federer to lament about his performance against Dabul, it was this statistic: The 16-time major champion converted only five of 19 break points.
Federer had an explanation for that, though.
He recently began working with Pete Sampras' former coach, Paul Annacone, and Federer jokingly said: "Break-point conversion wasn't very good, so that's (Annacone's) mistake." AP