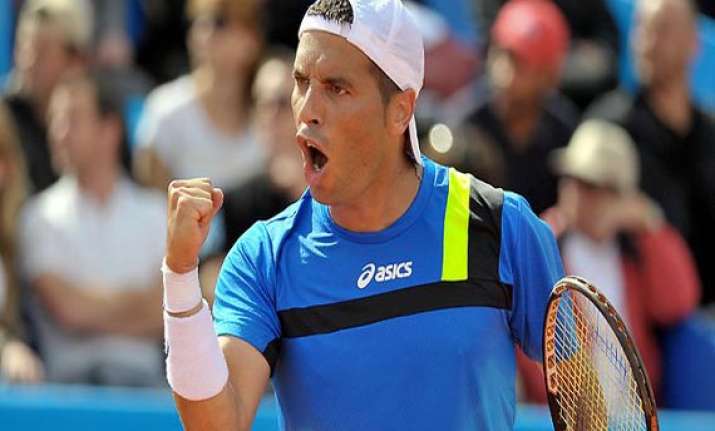 Umag, Croatia, July 25:  Albert Montanes of Spain upset top-seeded Richard Gasquet of France 6-4, 6-4 Wednesday to advance to the quarterfinals of the Croatia Open.
Montanes was up 3-1 in the second set before Gasquet responded by winning three games in a row, but the Spaniard broke again at 4-4.
Gasquet said he has been bothered by a shoulder problem since Wimbledon and couldn't play his best tennis.
"I lost my momentum on clay and now I am very disappointed," Gasquet said. "I started to play better in the second set but I was not 100 percent."
Earlier, third-seeded Fabio Fognini of Italy and sixth-seeded Martin Klizan of Slovenia also advanced to the quarterfinals, along with Gael Monfils of France.
Monfils had no problems against Slovenian qualifier Blaz Kavcic, winning 6-3, 6-1 in 69 minutes. Kavcic, who ousted seventh-seeded German Florian Mayer in the opening round, led 3-2 in the first set before Monfils won 10 out of next 11 games.
This will be the sixth quarterfinal of the season for Monfils.
Fognini defeated Thiemo de Bakker of the Netherlands 7-5, 6-3, while Klizan rallied to beat Leonardo Mayer of Argentina 3-6, 6-1, 7-6 (3).
Fognini made several unforced errors at the start of the match to hand de Bakker a 5-1 lead, but then won nine consecutive games to take control.
Fognini earned his 11th consecutive singles victory, after winning titles in Stuttgart and Hamburg.
"I was not consistent at the beginning, obviously I did not play great tennis, but after 10 matches in a row in two weeks it could be expected," Fognini said. "I started slow, then I started to fight for every point."
Klizan was up 4-1 in the third set, then failed to serve out the match at 6-5 before clinching the win in the tiebreaker.
Mayer jumped out to a 4-1 lead at the start, but Klizan won 10 out of 12 games after dropping the first set.