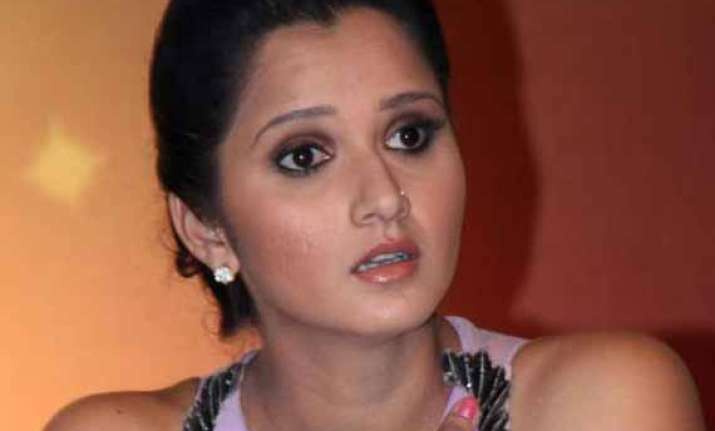 Hyderabad: Tennis star Sania Mirza today said she wants to put the controversy over her appointment as the brand ambassador of Telangana behind and was honoured and humbled to represent the newly-formed state.
"Since I have been made a brand ambassador, it's a matter of great honour. I am very humbled," she said, talking to reporters at an event here.
"Me representing Hyderabad, Telangana and most importantly India when I am playing... I am already representing the state in many ways. So, I think I have been doing it for many years and I hope to continue doing it," the tennis star said. 
To a question on the controversy over the statement made by BJP's floor leader in Telangana assembly K Laxman, questioning her credentials to represent the state, Sania said, "as far as the controversy is concerned. It is pretty much done and there is no point in talking about that now."
Laxman had described her as "a non-local" and "a "daughter-in-law of Pakistan".
Reacting to a question on badminton star Saina Nehwal's tweet that sportspersons were not treated very well by the government (referring to the previous Andhra Pradesh regime), Sania said: "No, I can't say that they are not treated very well. I spoke to KTR (Telangana minister K Taraka Rama Rao) this morning and he said he had already replied to that.
"I am not in a position to reply to Saina Nehwal unfortunately. I hope, she gets what she deserves....because she has done so much for this country and the state. I am sure, with CM (K Chandrasekhar Rao) like ours, we are moving forward and I am sure he will take it forward," Sania said.  
On the ongoing Commonwealth Games in Glasgow, she said, "It's sad that tennis is not a part of the games this time. I would have really loved to play after the good experience of playing in Delhi four years ago, I played and won couple of medals there.
"Today, India has won some medals. Congratulations for India. I hope we will break the records."
On encouragement to other sports, she said, "We have come a long way. Things won't happen overnight. At Commonwealth Games in Delhi, other sports got a lot of recognition. (Wrestler) Sushil Kumar and (shooter) Gagan Narang have become household names."