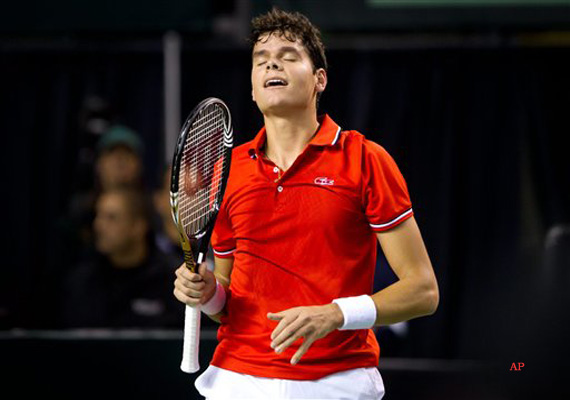 Vancouver, British Columbia , Feb 11 : Canada's Milos Raonic beat France's Julien Benneteau 6-2, 6-4, 7-5 on Friday to leave the two nations locked 1-1 after the opening singles of their Davis Cup series; Canada's first at the World Group level in eight years.

"I kept a really good flat line the whole match with not only with my physical (game), but also with my mental," Raonic said. "That's what really paid off."

In the opening match, Jo-Wilfried Tsonga cruised past Vasek Pospisil 6-1, 6-3, 6-3 at Doug Mitchell Thunderbird Sports Centre.

"Today, I'm sixth in the world," Tsonga said. "If I can put a lot of pressure on him at the beginning, that's tough for him."

The eventual winner will play the U.S.-Switzerland winner in the quarterfinals. The visiting United States leads that match 2-0.

"Basically, the two No. 1s took care of business today for either country," Canada captain Martin Laurendeau said. "Tsonga played a flawless match, and Milos, he just seemed like he was in the zone on his serve, and everything was flowing very nicely."
Benneteau praised Raonic."He didn't miss a lot," Benneteau said. "I tried to push him and to stay (in) the match and to have more opportunities to win points and to see what happened, but he was stronger today. I had nothing (I could) do at the end."

In doubles Saturday, Pospisil and Daniel Nestor will face Benneteau and Michael Llodra.