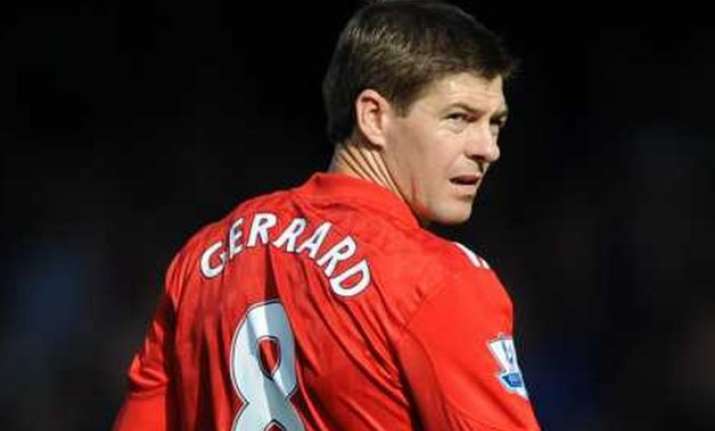 London: Steven Gerrard will announce later Friday that he is ending his 26-year association with Liverpool by quitting at the end of the season.
The Liverpool captain, who joined the club when he was just eight, is wanted by LA Galaxy. Gerrard insists no decision has been made, reports dailymail.co.uk.
He has turned down an extension to his contract at Anfield and was free to start negotiating with overseas clubs from Jan 1.
Gerrard has given Liverpool assurances that he will not join a team that will compete against them, unlike Frank Lampard who left Chelsea and joined Manchester City.
Gerrard, 34, has had a brilliant career at Anfield, but the one trophy he always wanted - the English Premier League - has eluded him.
He has served the club with distinction and inspired Liverpool to their famous 2005 Champions League triumph against AC Milan in 2005.
It is understood relations with Liverpool manager Brendan Rodgers have become more cordial in recent months, but Gerrard will insist the decision has been made in the best interests of his career.
Rodgers has previously claimed that Gerrard would finish his career as a central defender at Anfield, but it appears this view has altered again in recent months.
Instead the captain was warned that he will no longer play every game and the club offered him a new package on different terms for the 2015/16 season.
LA Galaxy, who signed David Beckham in 2007, are among a number of clubs interested in signing Gerrard when his association with Liverpool comes to an end.
New York Red Bulls, who employ former Liverpool manager Gerard Houllier as their sporting director, will also be in the mix.
Monday's FA Cup third round tie at Wimbledon is the start of the long goodbye for a player who has made nearly 700 senior appearances for the club.
He announced his retirement from international football at the start of the season after holding talks with Rodgers aimed at extending his career.