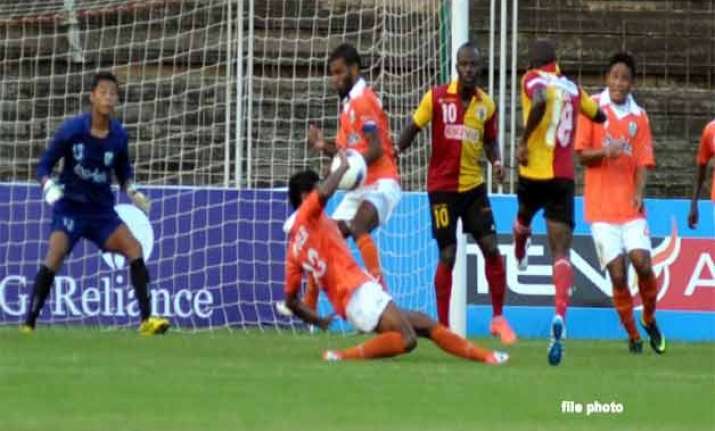 Margao, Goa: East Bengal conceded a late goal to finish with a 1-1 draw against Sporting Clube de Goa in their opening I-League encounter at the Nehru Stadium in Fatorda Sunday.
The renowned Kolkata side took the lead in the seventh minute through Ranti Martins but Sporting Clube fought back and got the equaliser in the 79th minute.
Early in the game, Nigerian striker Martins found himself at the right end of a long ball from Cavin Lobo, drew out goalkeeper Ravi Kumar, and finished with an angular shot that sailed into the net.
East Bengal seemed complacent after getting the goal, and Sporting began to assert themselves as Mauvin Borges and Rowlin Borges both held the midfield together.
Sporting's opening chance came in the 16th minute as Ogba Kalu's through to Wolfe saw him pick Joseph Pereira and when a deflection had fallen at the feet of Mauvin Borges, goalkeeper Subhashish Roy Chowdhury was on hand to parry the ball away to safety.
Apart from the goal, East Bengal had little to show in the opening session. Joaquim Abranches saw a cross out of his reach and Rojen Singh, the Sporting Clube defender, robbed Mehtab Hossain of possession when he appeared to be in good position to take a shot at goal.
Crossing over, Sporting Clube made two good substitutions as coach Mathew D'Costa brought in Bevan D'Mello and Prathesh Shirodkar, and the duo served the side well.
The home side restored parity 11 minutes from regulation time with Rowlin Borges essaying a through to Kalu and the Nigerian midfielder finished well from close range.