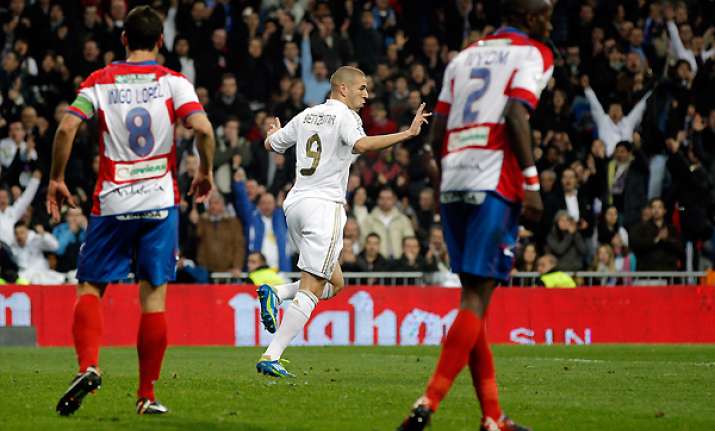 Barcelona, Jan 8: Spanish league leader Real Madrid turned up the pressure on Barcelona on Saturday when the in-form Karim Benzema scored a brace to lead its 5-1 win over Granada.

The victory extended Madrid's advantage over its fierce rival to six points ahead of Barcelona's Catalan capital derby at Espanyol on Sunday.

Benzema opened the scoring at Santiago Bernabeu Stadium in the 19th minute. Granada equalized three minutes later, but Madrid went on to dominate through goals by Sergio Ramos, Gonzalo Higuain, Benzema and Cristiano Ronaldo.

The France striker, who scored the winner in Madrid's 3-2 victory over Malaga in the Copa del Rey this week, has 10 goals in league play this season.

"Granada defends well and keeps its lines together, it's tough to break them down," said Ramos, a Spain defender. "But in the second half we were able to open it up and score the goals we needed."

Elsewhere, a pair of new managers failed to improve their teams' fortunes in their respective debuts on the sideline.

Atletico Madrid coach Diego Simeone saw his team draw 0-0 at Malaga as it stayed winless away in league play this season, and Manolo Jimenez could not prevent last-place Zaragoza from recording its ninth loss in its last 10 games in a 1-0 defeat at Racing Santander.

Madrid coach Jose Mourinho opted for a high-powered attack with Ronaldo accompanied by Benzema and Higuain in strike.

The move proved to be the right one as the three combined for four of Madrid's goals.

Germany playmaker Mesut Oezil, who had been under scrutiny since Madrid's humiliating 3-1 home loss to Barcelona before the holidays, had one of his best games of the season, setting up three goals.

Madrid toyed with the promoted Andalusian side early on with Ronaldo hitting the side netting and Ramos missing with a pair of headers before Benzema put the hosts ahead in the 19th.

Benzema, enjoying his finest moment since joining Madrid in 2009, slid into the six-yard box and swept in Oezil's exquisite pass flicked on with his left heel.

Granada responded immediately by pressing up the pitch, and midfielder Mikel Rico turned his header to send Ikechuwku Uche's cross off the left post and across the goal line to pull Granada even.

The loud contingent of Granada fans who had made the trip to the Spanish capital erupted, and the visitors came close to adding another when Rico drew a save from goalkeeper Iker Casillas and forward Dani Benitez fired wide from close range.

Ramos, however, reclaimed the lead for Madrid in the 34th with a header off a corner taken by Oezil, redirecting it into the right corner.

"I am happy for the goal that gave us back the control of the game and got us back on track for the second half," Ramos said.

While the first half had been evenly played, Madrid rolled after the restart.

Higuain put the game beyond doubt two minutes into the second half when he pounced on a ball lost by Marcelo in the box and shot by the passive Granada defense.

"Our slips in concentration and losses of possession cost us the game," Granada coach Fabricio Gonzalez said.

Benzema earned his double in the 50th when he pulled in Oezil's long pass, picked his spot and rifled a right-footed shot into the far corner of the net.

The former Lyon star left the pitch shortly after favoring his left leg. Madrid assistant coach Aitor Karanka said the injury "doesn't look serious."

Ronaldo took his league-leading goal tally to 21 with a strike in the 89th.

Earlier, Levante vs. Mallorca and Real Sociedad vs. Osasuna ended in scoreless draws.

Also on Sunday, it's: Rayo Vallecano vs. Sevilla, Getafe vs. Athletic Bilbao, Villarreal vs. Valencia and Real Betis vs. Sporting Gijon.