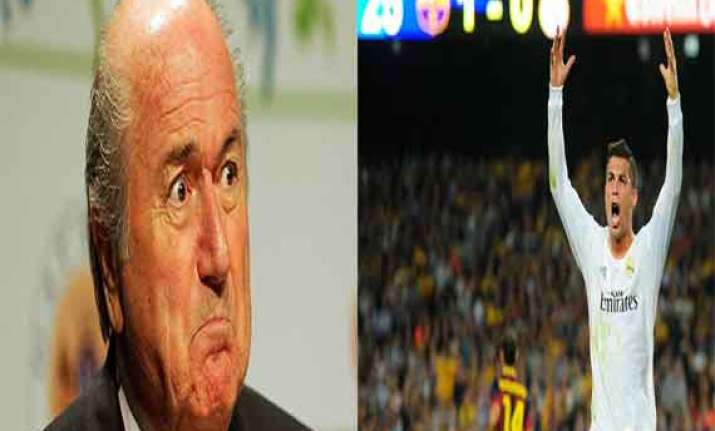 Madrid: Real Madrid has asked FIFA president Sepp Blatter to apologize for making fun of Cristiano Ronaldo.
Blatter recently told an audience at Oxford University that Ronaldo "is like a commander on the field of play" before strutting around the stage to the laughs of the students in attendance.
Madrid coach Carlo Ancelotti said Tuesday that club president Florentino Perez has sent a letter to Blatter asking him to "rectify what I consider a lack of respect for a serious and professional player."
While slighting Ronaldo, Blatter said he preferred Barcelona rival Lionel Messi, the Argentina forward who has won FIFA's world player of the year award for the past four years.
Ronaldo won the award in 2008, finishing second in voting behind Messi in 2009, 2011 and 2012.
On Tuesday, FIFA included Ronaldo and Messi on its list of 23 finalists for this year's world player of the year award. The list will be pared down to three players in early December.
"Messi is a good boy, that every father and every mother would like to have at home," Blatter said. "He's a kind man, a good boy. That's what makes him so popular, and naturally he'll always get a lot of votes because he plays well and scores goals."
Then, while comparing Messi and Ronaldo, Blatter made a joke about Ronaldo's hair.
"They don't have the same attitude and that gives life to football. One has more expenses for the hairdresser than the other but that doesn't matter," Blatter said.
Ancelotti defended Ronaldo's character.
"I completely agree with the president (Perez)," Ancelotti said. "I haven't spoken to Ronaldo about this. I think he shows every day and in every match that he is a serious and professional player that respects everyone."
Ronaldo also received support in Portugal.
Portuguese football federation president Fernando Gomes said Ronaldo is "often misunderstood because he's forthright and honest," and that his frankness sometimes "gives rise to a negative image which isn't him."