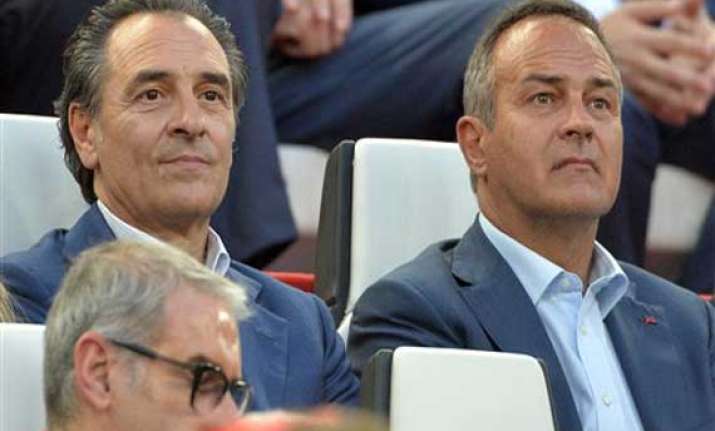 Milan, Italy: Italy coach Cesare Prandelli has already decided on his final 23-man World Cup squad and has asked the players to prove him right before he reveals who will be going to Brazil.
There were few surprises when Italy named its preliminary 30-man squad Tuesday but there will surely be more debate when seven players are cut.   
"Yes (I've decided), but I want confirmation from them" Prandelli said in an interview published in Friday's Gazzetta dello Sport. "I haven't thought about the starting XI: this will not be a World Cup of 11 players.   
"We need 23 resources, 23 players who think they will be among the first 11, focused only on the squad. Everyone has to understand they might play only one game. But it might be `the' game."   
Prandelli praised Giuseppe Rossi for making the provisional list, despite only just having returned from a four-month injury layoff due to a right knee injury.   
"I called him up because four and a half months ago, before his injury, he was the top goalscorer in Serie A and remained so for a few weeks after getting injured,"Prandelli said. "That's a sign that he was doing something extraordinary.   
"His inclusion is a message for everyone: if you want something and fight and really try for it, you deserve a chance. Rossi is also a champion in his behavior, that doesn't mean he will definitely be among the 23."   
Antonio Cassano was also on the list, despite not having played for Italy since helping the Azzurri to a runner-up finish at the 2012 European Championship, and he could make his World Cup debut after a fantastic season for Parma.   
"When a player manages to redevelop in a positive way and get back in the running it is as if they have cancelled out all the negativity," Prandelli said. "The numbers are the numbers: beyond his pride and his motivation, in scoring and in assists, Cassano was a few yards ahead of the others."   
Italian media says Cassano is the alternative if Rossi is deemed not fit enough, with Mario Balotelli the only forward assured of his place in the squad.   
"Nobody is tied to anyone," the Italy coach said. "We will now have 10 days of physical work from which I also expect scientific answers, without having to rely only on feeling. Both could come: I'm not ruling out anything."   
Prandelli also revealed he seriously considered including Francesco Totti, adding "I thought about him, before his injury he had extraordinary statistics. Then the younger players exploded and the future is theirs."   
Italy's first World Cup match is against England on June 14. It also plays Costa Rica and Uruguay in Group D.   
The Azzurri are aiming for a record-equaling fifth World Cup triumph, two years after surprisingly reaching the final of the European Championship, where it was humiliated 4-0 by Spain.   
"I haven't looked at who our potential opponents could be (in the knockout stages)," Prandelli said. "I know we have to pass the first round and then we have to organize in order to get to the final. I want to go to the final."