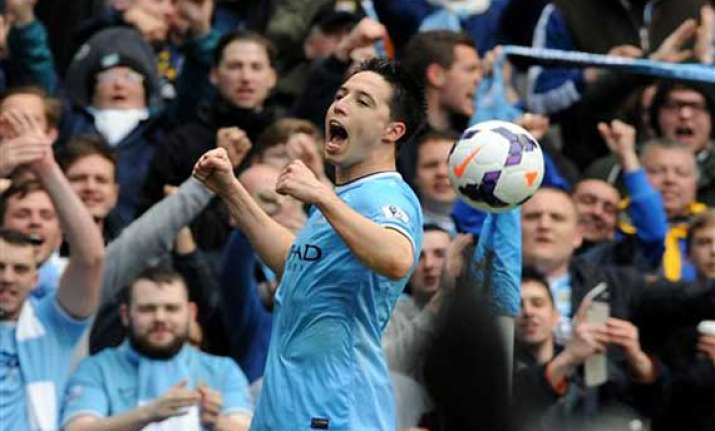 Paris: Manchester City midfielder Samir Nasri does not expect to be selected to France's World Cup squad by coach Didier Deschamps despite his good season in the Premier League.
"I respect his choices. He makes his choices, that's the way it is," Nasri said Sunday about Deschamps. "I'll go on holiday and watch the World Cup on TV."   
Nasri scored the opening goal in Manchester City's 2-0 win over West Ham that clinched the Premier League title. Nasri was also part of the team that won the League Cup in March by defeating Sunderland 3-1.   
"If I had made the trip to Brazil, I would have given everything," Nasri told Canal Plus television. "If it's not enough to be a starter at a club like Manchester City and win two titles, then it's too bad for me."   
Nasri was hit with a three-match ban by the French Football Federation for his behavior at Euro 2012 in Poland and Ukraine, where he aimed an expletive-laced tirade at a journalist after a 2-0 quarterfinal loss to Spain.   
"I don't have much to reproach myself with," Nasri said. "I had one bad game in Ukraine like most of my teammates. Everything else, it's just pretenses, false excuses. I've played in several clubs and I've never had any problem off the pitch or in the dressing room. Now, you can't be friends with 23 guys in a squad. That's the way it is."   
In the World Cup playoffs, France lost 2-0 in Ukraine in November but won 3-0 at home four days later to qualify for the tournament.