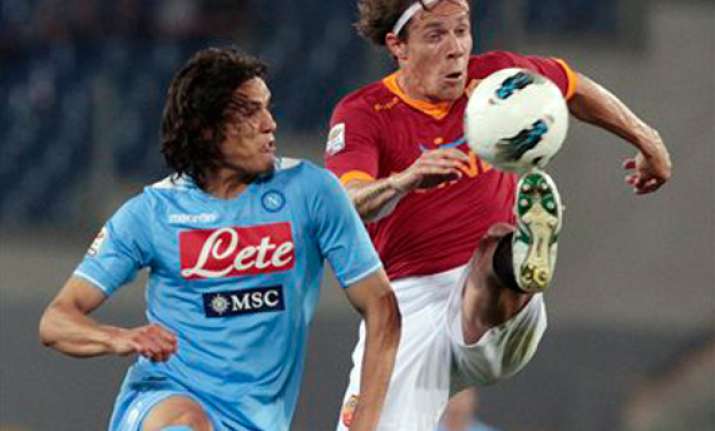 Rome, Apr 29: Napoli allowed an 88th-minute equalizer in a 2-2 draw at Roma in the Serie A on Saturday, which could be a big blow in its attempt at returning to the Champions League.
Napoli moved level with Lazio for third place, which carries a spot in Champions League qualifying, but Lazio holds the tiebreaker and has a chance to move back ahead at Udinese on Sunday.
After this weekend, only three rounds remain.
On Sunday, Serie A leader Juventus looks to protect its three-point advantage over AC Milan at Novara, while the Rossoneri visit Siena.
At Stadio Olimpico, Roma dominated the first half but had trouble finding the target until Marquinho redirected a cross from Aleandro Rosi in the 41st minute.
Napoli struck back with goals from Juan Zuniga and Edinson Cavani in the 49th and 67th, both with shots from beyond the area to the top right corner.
Roma's equalizer came from Fabio Simplicio, who then ran into the stands to kiss his wife and son.
Earlier, Catania drew 1-1 at Palermo in a Sicilian derby, and Cagliari and Chievo Verona played to 0-0.
Former Juventus defender Nicola Legrottaglie put Catania ahead in the 25th with a close-range header and Palermo captain Fabrizio Miccoli equalized in the 47th by finishing off a counterattack.