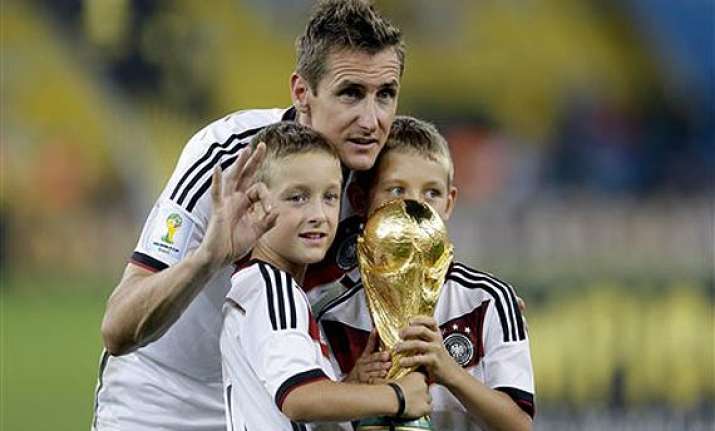 BELO HORIZONTE, Brazil : Miroslav Klose is the second member of the World Cup-winning side to step down after captain Philipp Lahm. While Lahm's retirement came as a surprise, but Klose's move was expected.
With a career total of 71 goals, Klose is also the highest-scoring player for Germany. He is also the second most capped Germany player with 137 games.
Klose played for Kaiserslautern, Werder Bremen and Bayern Munich in the Bundesliga before moving to Italian club Lazio in 2011, where he has another season on his contract.
Miroslav Klose found perhaps the only way to make matters worse for Brazil. On a night when Germany routed the host nation 7-1 in the World Cup semifinals, Klose also became the tournament's all-time record scorer  eclipsing Brazil great Ronaldo.   
Klose scored Germany's second goal in the 23rd minute for his 16th career World Cup goal in his fourth tournament. It broke the mark of 15 goals he shared with the retired Ronaldo, who watched the game in the stadium as a TV commentator.   
Klose scored after a corner by Toni Kroos. His first effort was parried by Brazil's goalkeeper Julio Cesar, but Klose calmly stroked the rebound home. "We are a team and it shows on the field. It's also important that our set pieces bring results. Toni put the ball where it has to go," Klose said.   
The 36-year-old Lazio striker also scored in Germany's 2-2 draw with Ghana in a group match when he came off the bench to get Germany back into the contest.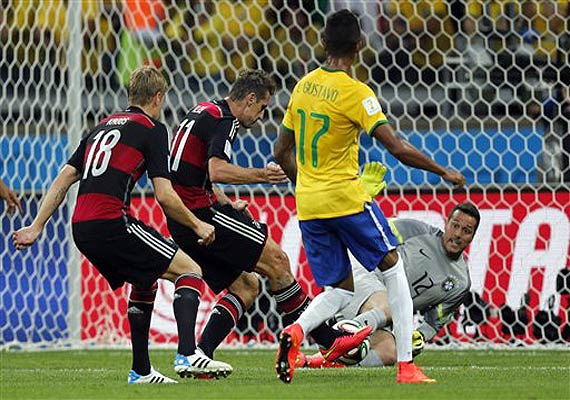 Klose was born in Poland but has always played for Germany. With 70 goals in 134 matches, Klose is Germany's all-time top scorer, having beaten the record previously held by Gerd Mueller. He was the top scorer and Golden Boot winner at the 2006 World Cup in Germany with five goals. Klose also scored five goals in his first World Cup, in 2002. He scored four in 2010.
Klose who is  36-year-old, playing in his fourth World Cup, had already equalled Ronaldo on 15 goals with his dramatic strike in Germany's 2-2 draw against Ghana in the group stage.
The goal was his first in a World Cup semifinal and arguably one of his most important as it put Germany 2-0 up in the last four clash.
Klose  has been consistently lethal in front of goal in the last three World Cups and contributing to his record-breaking tally has been the fact he has played in 23 matches due to Germany having reached the final and semifinals twice in that time.