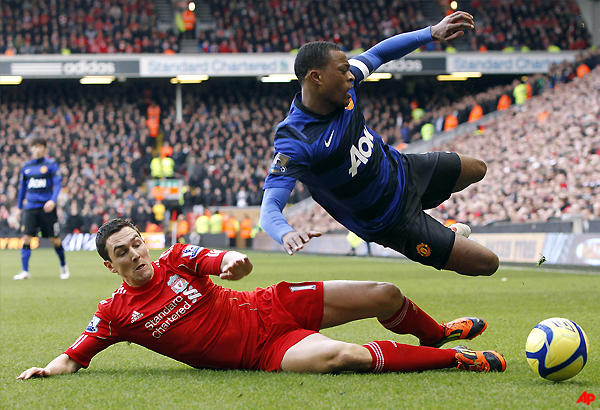 London, Feb 10: Two weeks after Manchester United was knocked out of the FA Cup by Liverpool, the defending Premier League champions get the chance for some payback when they host their traditional rivals Saturday in the English championship.

With league leader Manchester City at Aston Villa on Sunday, second-place United is likely to need victory at Old Trafford to stay in touch with its neighbor at the top of the standings.

United showed its fighting spirit by recovering from a 3-0 deficit to draw 3-3 at Chelsea last weekend and is in the mood to face the team it overhauled as English football's most successful last season.

"They're a club similar to us with massive history," United midfielder Ryan Giggs said. "We're the two most successful teams in the country, so we know we've got to perform and play well to get anything from any game against them.

"We know we're in for a tough game. It's the club we tried to catch for so long and now we've caught them the challenge is to stay ahead."

Liverpool is out of contention for the title it last won in 1990 but still has the cup competitions to aim for — and can also spoil United's season.

Out of the Champions League, FA Cup and League Cup, United only has the Premier League and the minor attraction of the Europa League left to aim for. A loss at Old Trafford on Saturday could be a heavy blow to United's title hopes.

Liverpool manager Kenny Dalglish is trying to keep his players focused on the match rather than the hype surrounding it.

The FA Cup game was overshadowed by the continued fallout of the row between the clubs that erupted this season when Liverpool forward Luis Suarez was found guilty of racially abusing United defender Patrice Evra.

Suarez is available again after missing the previous game because of suspension.

"Both teams have a responsibility to ensure this weekend is remembered as a cracking game of football between two very good sides, rather than for anything else," Dalglish said. "I'm sure people will want to talk about Luis Suarez, but he accepted his ban, served his suspension and returned against Spurs on Monday. It's time for all of us to draw a line under what happened and move forward.

"From Luis' point of view we have spoken to him and I know he will shake the hand of Patrice Evra and the other Manchester United players before the game."

Any slip up by United could give third-place Tottenham the chance to close a five-point gap on the defending champions.

Tottenham hosts Newcastle in another of Saturday's eight games finally free of the court case that prevented manager Harry Redknapp from attending Monday's 0-0 draw at Liverpool.

Redknapp was cleared of tax evasion charges Wednesday and was almost immediately linked with the job of succeeding Fabio Capello as England coach. But Redknapp said he is thinking only about a Tottenham side that is hoping to have Rafael van der Vaart and Jermain Defoe back from injury.

"I've not even thought about it. I've got a job to do," Redknapp said. "I've got a big game on Saturday for Tottenham. Tottenham is my focus."

Also Saturday, it's: Blackburn vs. Queen Park Rangers; Bolton vs. Wigan; Everton vs. Chelsea; Fulham vs. Stoke; Sunderland vs. Arsenal; and Swansea vs. Norwich.

On Sunday, City is at Villa and Wolverhampton Wanderers hosts West Bromwich Albion.

League Championship leader West Ham aims to boost its campaign for promotion from the second tier at Peterborough on Saturday.