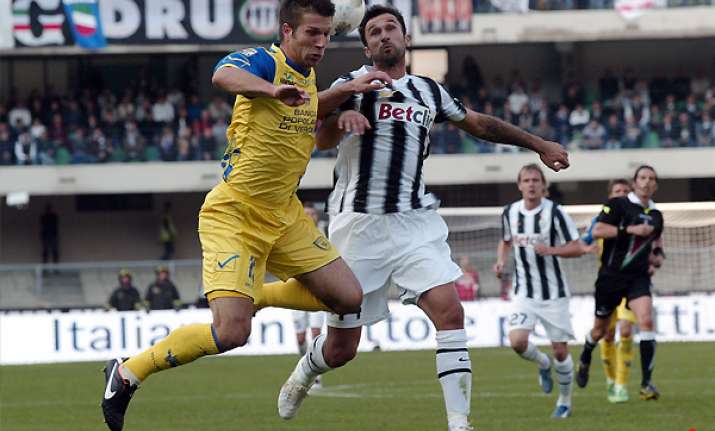 Rome, Oct 16: Juventus stayed atop Serie A following a 0-0 draw at Chievo Verona, one of five scoreless stalemates in the Italian league Sunday.

The closest either side came to scoring was a header off the post from Alessandro Del Piero in the 73rd minute, three minutes after the 36-year-old Juventus captain came on.

Juventus had another chance in the 75th but Chievo goalkeeper Stefano Sorrentino deflected a long effort from Simone Pepe over the bar, and Del Piero preserved the draw by clearing the ball off the line in the 84th following a corner from United States international Michael Bradley.

With new coach Antonio Conte guiding a long list of new players, Juventus remains unbeaten.

Juventus and Udinese each have 12 points through six matches but Juve leads on goals scored.

Udinese also drew 0-0 at Atalanta, and Cagliari stayed one point behind the leaders after another scoreless result against Siena.

Ten-man Genoa and Lecce also played to a 0-0 draw after defender Kakha Kaladze picked up his second yellow card in the 79th.

In the day's only match with a goal, Bologna got its first win by beating Novara 2-0 with scores from Gaston Ramirez and Robert Acquafresca in coach Stefano Pioli's debut.

Earlier in the lunchtime fixture, Cesena held Fiorentina to a 0-0 draw despite losing striker Adrian Mutu to a straight red card.

Roma was facing Lazio in the Rome derby later.

Mutu, playing against his former club, was sent off in the 73rd for swiping his arm toward the face of Fiorentina defender Mattia Cassani.

Cesena had come closest to breaking the deadlock as Roberto Guana hit the crossbar in the 20th minute while former Juventus midfielder Antonio Candreva also touched the woodwork with a similar effort in the 55th.

Fiorentina was missing injured forward Alberto Gilardino and winger Juan Vargas, who was left out of the squad for keeping late hours.