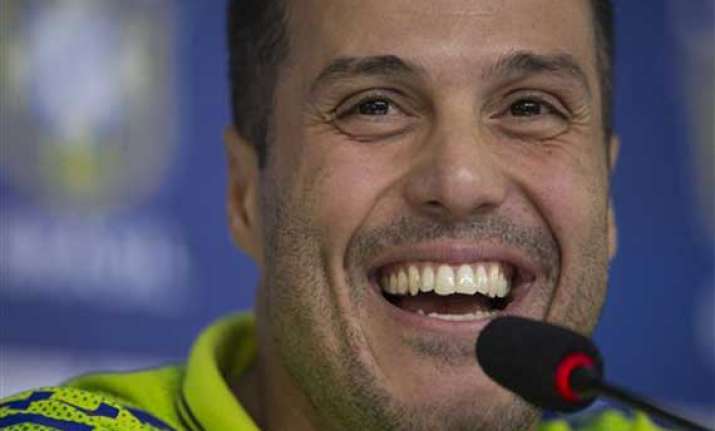 Sao Paulo: Brazil goalkeeper Julio Cesar said Tuesday he arrives for the World Cup at home a lot more prepared than he was four years ago, when his mistake played a part in the team's elimination in South Africa.
Cesar said the difficulties he went through after the 2010 World Cup helped him become "a better professional" and made him "more focused" on his career.   
He admitted that he took things for granted before the World Cup in South Africa, when he arrived considered the world's top goalkeeper.   
The 34-year-old Cesar said he joined Toronto FC because it was the only team that wanted him, but said his preparations were not affected by playing in a less-traditional league. He called his time with Toronto "excellent" and said he is "100 percent" ready.   
"I arrive a lot more prepared than I was four years ago," Cesar said at Brazil's training center in Teresopolis, outside Rio de Janeiro. "During bad times you have to try to find some positive things, and I did. It wasn't only the elimination against the Netherlands, I also had to deal with problems at Inter Milan and then at Queens Park Rangers. I needed to find a lot of strength to come back."   
Cesar failed to clear a cross during Brazil's quarterfinal against the Netherlands in 2010. That led to the equalizer for the Dutch, which eventually went on to beat the South Americans 2-1. Cesar said he thought about quitting football at the time, and things only got worse after he faced problems both at Inter Milan and then at Queens Park Rangers, where he was sidelined and played sparingly.   
"I became a better professional after the 2010 World Cup," he said. "When things are going your way, you end up relaxing a little bit more. I was very confident in 2010 because of everything that had happened until then, and I think that too much confidence can hurt. Now I can say that from personal experience."   
Although Brazil coach Luiz Felipe Scolari named Cesar the World Cup starter long time ago, many still consider the goalkeeper the weakest link in Brazil's squad, especially because of his lack of play in recent months.   
"I don't think there is pressure," he said. "I know many people are questioning me and why I was selected, but the coaches have the confidence in my game and I know that I can add a lot to this group."   
Cesar conceded nine goals in seven matches with Toronto in the run-up to the World Cup, but said he was able to take advantage of the time he spent in Major League Soccer.   
"My preparations were excellent, I feel I'm 100 percent ready for the World Cup," Cesar said. "Toronto was the only team that opened its doors for me. I talked to several clubs, including in Brazil, and the negotiations were not successful, many times because of the salaries here. But I knew I had to be playing so I could arrive well psychologically, it would have been hard if I hadn't been playing anywhere."