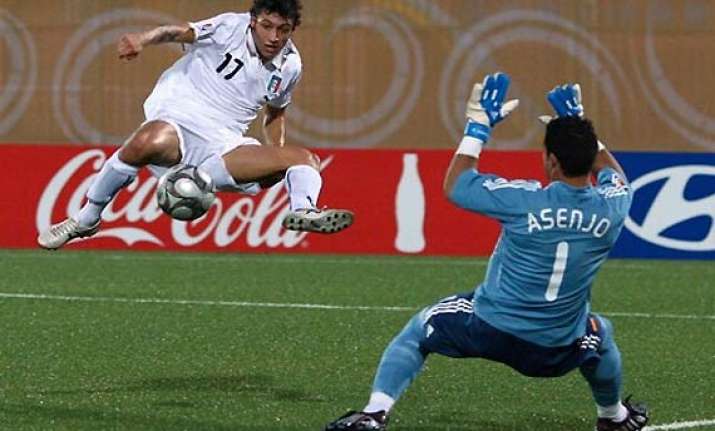 Bari, Aug 8: With qualification to Euro 2012 virtually secured, the 2006 World Cup winners Italy and reigning champions Spain test their form in a friendly at Bari's San Nicola stadium.

The Azzurri hold a wide lead in Group C with four games to go, while Spain are even better off in Group I, where the holders have won all their five games and have three left.

Cesare Prandelli called back Daniele De Rossi, a Roma midfielder who missed the latest outings due to disciplinary reasons. Andrea Pirlo is expected to be the play-making midfielder.

The two midfielders and goalkeeper Gianluigi Buffon are what remains from the Azzurri squad that lifted the 2006 World Cup, a triumph followed by a poor showing at Euro 2008 and an embarrassing group-stage crash at the 2010 World Cup.

Buffon and Pirlo, who transferred in the summer from champions AC Milan, are now together at Juventus, who also provide full-backs Giorgio Chiellini and Leonardo Bonucci, plus midfielder Claudio Marchisio.

Up front, Milan's Antonio Cassano looks to play before his home-town crowd, possibly taking turns with Mario Balotelli, Giampaolo Pazzini and Giuseppe Rossi.

Thiago could feature

The high-level friendly could mark the Spain debut of Barcelona ace Thiago Alcantara, a midfielder born in 1990 to Brazilian parents in San Pietro Vernotico, a town south of Bari.

Thiago's father Mazinho, also a midfielder, was then playing for Serie A club Lecce. In 1994, he played the World Cup final that Brazil won on penalties against Italy.

Thiago was crucial for the Spanish Under-21 team's triumph at the European championship in Denmark in June, and has impressed fans in Barca's pre-season.

Coach Vicente del Bosque said to have called him up "for purely sporting reasons," denying allegations that he was trying to prevent Thiago from playing for Brazil instead of Spain.

"I have a lot of confidence in him," he said.

Missing from del Bosque's list are injury victims Carles Puyol, Joan Capdevila, Cesc Fabregas, Carlos Marchena and Jesus Navas.

Sergio Ramos is doubtful due to back problems that worsened after Real Madrid's tour of China. On Sunday the defender returned to the Spanish capital complaining of severe back pains.

As a replacement for Ramos, del Bosque called up left-back Nacho Monreal, who has just joined ambitious Malaga from Osasuna.

Monreal, 25, has not played for Spain since October 2010. He now has a good chance to establish himself as Spain's first-choice left-back, given that del Bosque seems to be phasing out the 33 year-old Juan Capdevila, who did a limited but competent job at Euro 2008 and the 2010 World Cup.

"I am very pleased with this, I did not expect it at all. It is a shame that it is because of injury to a companion, and I hope that he recovers as quickly as possible," said Monreal.