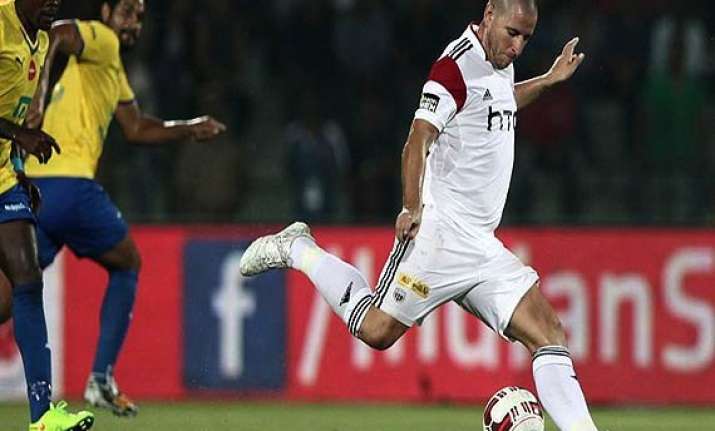 New Delhi: With critics terming the Indian Super League (ISL) as any other big-budgeted sporting event bearing no impact on national football, the All India Football Federation (AIFF) director Col Gautam Kar on Tuesday said that the competition itself will answer back in due course of time.
"We always do things with a positive frame of mind. With commerce, entertainment and sport clubbed together, ISL is a complete package. Our aim is to get the public back in the stadiums. And things will certainly improve in due course of time," said Col Kar at the launch of the 'Fair Play Award' trophy at a city club.
Defending the league's policy to bank on foreign players, like Alessandro Del Piero, Marco Materazzi, Luis Garcia to name a few, for popularity and promotion, Col Kar said the Indian players will not only benefit but also improve their standard by rubbing shoulders with the best in the business.
"I started off as a village boy playing in chappals. But here I am wearing a suit and a tie. I have picked all this from you all. So I guess the players will certainly learn from each other and if the foreign player are better, our players will learn from them. It's always a two-way process," said Col Kar.
Terming the comparison between I-League and ISL 'unfair', Col Kar said that the leagues are like chalk and cheese and will certainly co-exist peacefully and successfully.
"I-League is a different concept as compared to ISL, so please don't compare the two. I-League has four foreign players and seven Indian in an XI while ISL has more foreign players and five Indian players. So no league or event is threat to each other," he said.
Col Kar, who is also the Head of AIFF Referees Department and an Elite Asian Football Confederation (AFC) Match Commissioner, said the level of refereeing in ISL will be top class with best official from India and abroad being appointed for the job.
"We have the best referees from the American, Major Soccer League (MLS) and officials from this and previous edition of FIFA World Cup. Please note there are no retired referees but all active officials on and off the field," Col Kar informed.
"We also get a good foreign instructor to get our national officials keep abreast with the latest in international football rules and improve the standard of refereeing. This has been happening for the last three years. And for the first time we had four Indian referees in the Asian Games this year. Maria Rebello Piedade and Uvena Fernandes represented the female referees. So things are certainly looking good for Indian football on the players and officials front," he added.
With just a couple of games gone by in the league that's gaining popularity by the day, goals have only come via foreign players and once again the question of Indian players not getting benefited by the event comes to the fore. Col Kar though begs to disagree.
"Look it's not only about the two-month competition. Franchisee's also have responsibility and will be holding camps in the off season to hunt for players from even the rural areas. So its not that it's a foreign players' league. I advice you all to be patient and result will be evident in some time," he said.
The high-profile 10-week football league, which kick-started on October 12, will conclude on December 20. It features many Indian and international players with eight teams playing 61 matches in eight cities across the country.