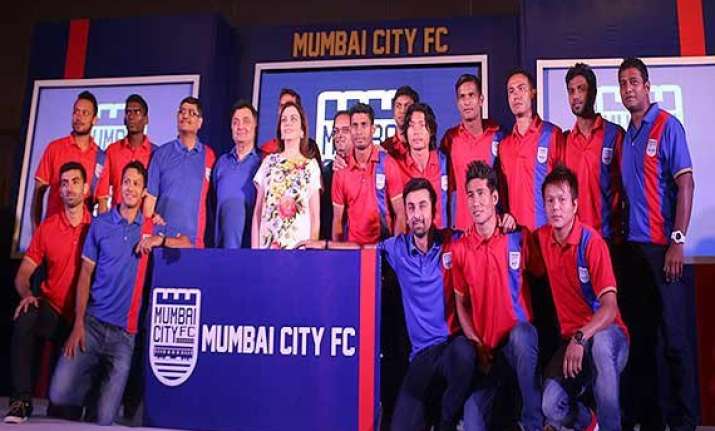 Mumbai:  Indian Super League's (ISL) Mumbai franchise owners Ranbir Kapoor and Bimal Parekh said that their team will be called Mumbai City Football Club while announcing player names and launching the team logo and outlining its philosophy .
Present at the launch were several Mumbai City FC players such as Subrata Paul, Ishan Debnath, Manuel Friedrich, Peter Costa, Syed Rahim Nabi, Asif Kottayil, Lalrin Fela, Rohit Mirza, Abhishek Yadav, Sushil Kumar Singh, Singam Subash Singh and Nadong Bhutia along with technical director Nishant Mehra and COO Arunava Chaudhuri.
"As the Mumbai City Football Club comes to life on this day, I would like to share one thought you should always remember -- the fact that this team belongs to not just me but 20 million Mumbaikars whose hearts beat here and who call the city home. This is our team Mumbai," said Kapoor.
The team's colours will be a combination of blue with red and white. Unveiling the Mumbai City FC logo, Kapoor shared details behind the striking blue and white design.
"A resilient fortress stands proudly, surrounding the logo that signifies the unrelenting, determined spirit of the city. The seven stars, bold and regal, symbolise the islands that form Mumbai," he said.
"Trains that are the very lifeline of the city, pulsing, beating a staccato rhythm as they ply millions of Mumbaikars across its vast expanse, every single day tirelessly, connect these islands."
Talking about the philosophy of the team, Parekh said, "Our team will play a possession based free flowing brand of football while being technically sound, fast and tactically aware."
Talking about the squad, Mehra said: "Mumbai City FC is composed of an exciting line-up that boasts of varied international experience blended with rich domestic talent from across the country. We are looking forward to building a strong team by bringing together the best talent available."
The following players will make the squad: Subrata Paul, Ishan Debnath, Deepak Kumar Mondal, Raju Eknath Gaikwad, Syed Rahim Nabi, Peter Costa, Lalrindike Ralte, Asif Kottayil, Ram Malik, Rohit Mirza, Lalrin Fela, Abhishek Yadav, Singam Subash Singh, Sushil Kumar Singh and Nadong Bhutia are the domestic players.
André Matos Dias Pereira (Portugal), Manuel Friedrich (Germany), Pavel (Czech Republic), Johan Letzelter (France), Ilias Pollalis (Greece), Tiago Manuel Fernandes Ribeiro (Portugal), Francisco Javier Fernández Luque (Spain), Jan Štohanzl (Czech Republic) and Diego Nadaya (Argentina) are the foreign sign-ups.
Navi Mumbai's D.Y. Patil Stadium will serve as the team's home stadium during the ISL while the Cooperage Stadium will be the training base. Pre-season, the team will train at the Father Agnel Ground.