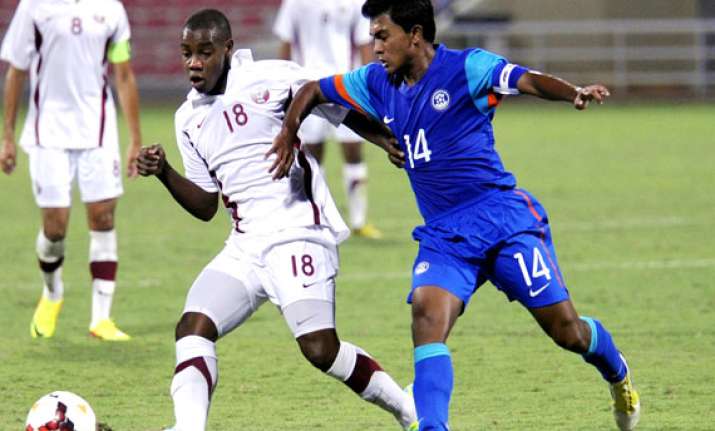 Doha: India will look to get back to winning ways against Nepal in their second Group A match of the AFC U-19 Championship (Qualifiers) here at the Al Arabi Stadium Sunday after losing to hosts Qatar 0-2 in their first match.
"We have to keep our shape throughout the match. I thought we were excellent in the first half against Qatar but failed to hold fort in the opening exchanges of the second period," India head coach Colm Joseph Toal said.
Second-half goals by Akram Hassan and Abdullah enabled Qatar to bag three vital points against India, who were unlucky not to have scored in the first half after dominating play.
If winger Germanpreet Singh shone on both channels of the pitch, Kumam Udanta Singh was his perfect foil. But what would not please Toal are the bookings of debutant goalkeeper Vishal Kaith and substitute S.K. Faiaz.
While Kaith picked up a yellow trying to avert one and tripping Akram in the process, Faiaz lost balance and handled the ball inside the rival box.
"Tomorrow is another chance for us to play an international game. More number of matches we play at this level, the better we become," said Toal.
"We have to keep the ball better than yesterday. I thought the first half was perfect but then we couldn't maintain that in the second period. We need to keep the ball higher up the field for longer periods. That's what we will be working on," added the Briton.
Talking about the opponents, the coach said: "Nepal are a good side and were unfortunate in the first match to play with 10-men for most part of the 90 minutes. It will be a Derby and we are looking forward to it."
Nepal coach Raju Kaji Shakya, on the other hand, was all praise for India.
"India are a very good team with some excellent players. They were really good in the first half yesterday. We have to be on our toes against them tomorrow," he said.