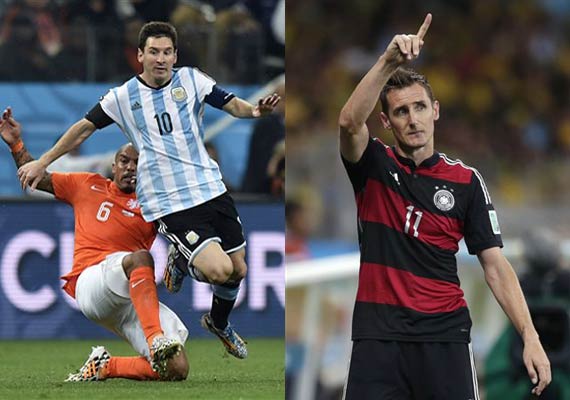 RIO DE JANEIRO: The best player in the world goes up against the ultimate team machine, on the world's biggest stage.
When Lionel Messi's Argentina takes on Germany in Sunday's World Cup final, it looks at first glance like a meeting between brilliant individual scoring talent and the tight discipline of a collective unit.   
But this game will be about much more than that.   
Argentina has shown that it can play just as tactically as the Germans, eking out narrow victories and doing whatever is needed to win. Germany, meanwhile, has put on two of the most explosive displays of the tournament -- beating Portugal 4-0 in its opening game and then demolishing host Brazil 7-1 in the semifinals.   
Add in the rich history between these two teams -- who faced each other in two straight World Cup finals in 1986 and 1990, winning one each -- and it's anyone's guess who will come out on top at the Maracana Stadium.   
Here is a look at how the two finalists compare:
GOALKEEPERS:
Manuel Neuer's reputation as one of the best goalkeepers in the world has only grown in Brazil, where he has been one of Germany's best players throughout the tournament, especially in the knockout rounds. Aside from being a first-class shot stopper, the Bayern Munich goalkeeper showed his versatility by repeatedly rushing out to help the defense in the second-round win over Algeria. He then made key saves to deny Karim Benzema an equalizer for France in the quarterfinals, and a number of impressive stops against Brazil. 
Sergio Romero has answered most sceptics who questioned whether he was good enough to play for a top team in a World Cup. Romero was only a backup for his club Monaco this past season, but came through big in the penalty shootout against the Netherlands with two saves to send his team into the final. He has kept three straight clean sheets in the knockout rounds, but will face his greatest challenge yet against the clinical Germans.   
Advantage: Germany