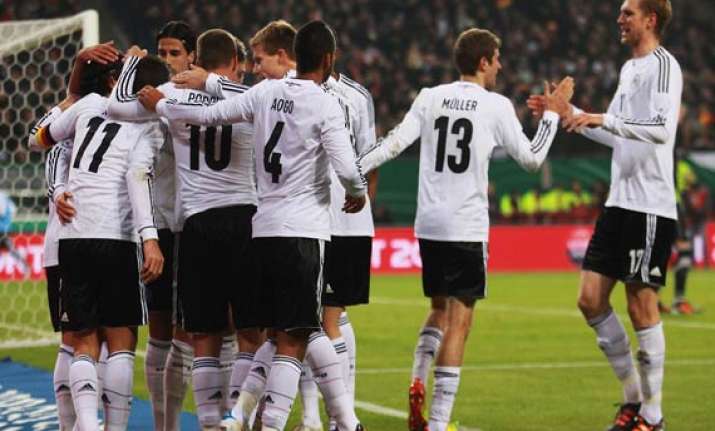 FRANKFURT, Germany: Germany coach Joachim Loew made several surprise inclusions in his preliminary 30-man World Cup squad on Thursday, with established regulars such as Mario Gomez missing out.
Loew named relatively unknown players such as Genoa defender Shkodran Mustafi, Borussia Dortmund defender Erik Durm, Augsburg attacking midfielder Andre Hahn, Hoffenheim striker Kevin Volland and Schalke's 19-year-old midfielders Max Meyer and Leon Goretzka. None have made any appearances for the senior side.   
Freiburg midfielder Matthias Ginter, who made his debut against Chile in March, was also named.   
"We need young dynamic players like those who perhaps only recently played themselves into contention. They can inject fresh impetus into the side," said Loew, whose team was booed by its own fans during the lackluster 1-0 win over Chile.   
The average age of the side is 24.8 years, and Loew, who was assistant to Jurgen Klinsmann before taking over after the 2006 World Cup, feels he has struck the right balance between youth and experience.   
"Many players are used to high-pressure situations from playing in the Champions League, they can live with it," Loew said. "Our foreign-based players also profit from establishing themselves abroad. That brings them further on a sporting level. Generally we have a good mix in the squad."   
Gomez, who has 25 goals in 59 games for Germany, missed out due to a left knee injury after a season blighted by injuries at Fiorentina.   
"He was injured for seven months, only played 280 minutes since September," Loew said. "So I formed the opinion that he isn't in a position physically to cope with the conditions in Brazil.   
There was also no place for Borussia Moenchengladbach goalkeeper Marc-Andre ter Stegen or former Germany No. 1 Rene Adler.   
"We didn't make any decisions `against' any players but for those who would maximize potential of the squad. We're very sorry for the players who didn't make it," Loew said.   
Dortmund keeper Roman Weidenfeller and Hannover's Ron-Robert Zieler will deputize for current No. 1 Manuel Neuer of Bayern Munich.   
Loew said he picked the players based on current form and fitness but made an exception in selecting midfielder Sami Khedira, who has yet to play for Real Madrid since having knee surgery last November.   
Bayern contributes seven players to the squad, more than any other side, with Dortmund boasting six.   
Philipp Lahm, Bastian Schweinsteiger, Toni Kroos and Mario Goetze lead the Bayern contingent, while Marco Reus, Mats Hummels and Marcel Schmelzer are among the best known Dortmund players.   
Arsenal trio Mesut Ozil, Per Mertesacker and Lukas Podolski were all included.   
"Behind each of these names is a clear `yes,"' Loew said. "We'll have to send some of them home and of course that will lead to disappointment but those players will have contributed to German football and they can be proud of that."   
Loew has until May 13 to submit a squad of no more than 30 players to FIFA, with the deadline for the final 23-man squad on June 2.   
Due to the German Cup final between Bayern and Dortmund in Berlin on May 17, Loew named a separate 18-man squad for Tuesday's friendly against Poland in Hamburg with eight first-time call-ups.   
These included Meyer, Goretzka and Volland, as well as Freiburg's Oliver Sorg and Christian Guenter, Antonio Ruediger of Stuttgart, Christoph Kramer of Moenchengladbach and Wolfsburg attacking midfielder Maximilian Arnold.   
Four other players were previously called up but have yet to earn their debuts: Mustafi, Hahn, Sebastian Jung of Eintracht Frankfurt and Sebastian Rudy from Hoffenheim.   
"It's clear to all of us that the team on the pitch in Hamburg won't be the team playing the World Cup in Brazil," Loew said. "We want to look beyond the World Cup. Some of the players can be influential figures in the big tournaments to come."   
In Brazil. Germany hopes to get off to a good start against Cristiano Ronaldo's Portugal, before a reunion with Klinsmann, now in charge of the United States, and another game against Ghana, when half-brothers Kevin-Prince and Jerome Boateng will renew their World Cup rivalry on opposing sides. 
  ------   
Squad:
Goalkeepers:
Manuel Neuer (Bayern Munich), Roman Weidenfeller (Borussia Dortmund), Ron-Robert Zieler (Hannover)
   
Defenders:
Jerome Boateng (Bayern Munich), Erik Durm (Borussia Dortmund), Kevin Grosskreutz (Borussia Dortmund), Benedikt Hoewedes (Schalke), Mats Hummels (Borussia Dortmund), Marcell Jansen (Hamburger SV), Philipp Lahm (Bayern Munich), Per Mertesacker (Arsenal), Shkodran Mustafi (Genoa), Marcel Schmelzer (Borussia Dortmund)   
Midfielders:
Lars Bender (Bayer Leverkusen), Julian Draxler (Schalke), Matthias Ginter (Freiburg), Leon Goretzka (Schalke), Mario Goetze (Bayern Munich), Andre Hahn (Augsburg), Sami Khedira (Real Madrid), Toni Kroos (Bayern Munich), Max Meyer (Schalke), Mesut Ozil (Arsenal), Marco Reus (Borussia Dortmund), Andre Schuerrle (Chelsea), Bastian Schweinsteiger (Bayern Munich)   
Forwards:
Miroslav Klose (Lazio), Kevin Volland (Hoffenheim), Lukas Podolski (Arsenal), Thomas Mueller (Bayern Munich)