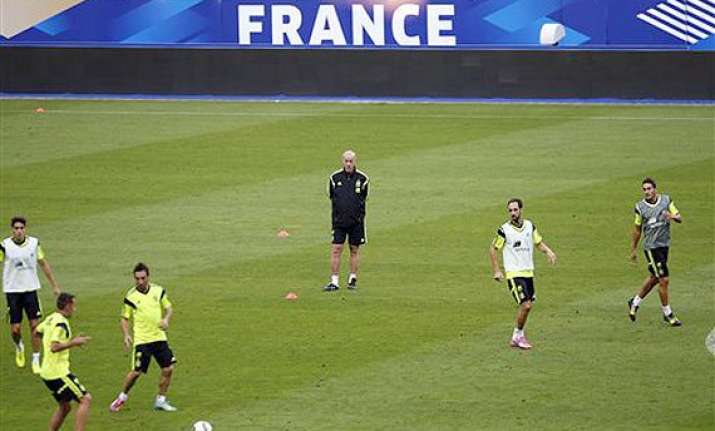 PARIS :  Filling the midfield void left by the international retirements of Xavi Hernandez and Xabi Alonso is one of the big challenges facing Spain as it seeks to rebuild following a shambolic World Cup performance.
With nearly 250 international appearances between them, the duo played a crucial role in a sustained period of success which saw Spain win two European Championships and a World Cup from 2008-2012.
   
Both stepped aside after the World Cup this summer, where Spain was beaten by the Netherlands and Chile in its first two group games to make an early exit from the tournament.
   
Spain coach Vicente del Bosque kept his job, thanks to the weight of his past achievements. But he has a tough task to retain the European Championship in two years' time.
   
Qualifying should not be too hard. Spain, which is drawn in Group C and opens its campaign against Macedonia at home on Monday, also faces Ukraine, Slovakia, Belarus and Luxembourg.
   
First up, though, is a friendly away to World Cup quarterfinalist France on Thursday. France's coach Didier Deschamps, the fulcrum in midfield when Les Bleus won the 1998 World Cup and Euro 2000, understands how big a loss Alonso and Barcelona great Xavi will be.
   
"Of course some players have stopped, notably in the heart of their game," Deschamps said Wednesday. "The whole of their game depended on them. They're quality players who were used to playing with each other."
   
The pressure on new players breaking into a team once so dominant promises to be intense. Atletico Madrid midfielder Raul Garcia at the ripe age of 28 and Athletic Bilbao's holding midfielder Ander Iturraspe, who is 25, have a chance to impress after waiting so long.
   
"I don't know what Vicente del Bosque plans to do," Deschamps said. "The worry the new generation might have is that those who were there before them played in all of the games, so they have few very caps between them. They're going to have more of an important role to play now."
   
Del Bosque is also likely to lean more heavily on Chelsea midfielder Cesc Fabregas, who has made a bright start to the season, while Arsenal's Santi Cazorla who found it hard to hold down a place during Spain's glory era -- can also stake his claim.
   
Whoever plays, Deschamps expects the style of play to remain unchanged. "They keep the ball well and force you to drop back. It's about what you do with the ball when you have it," he said. "They base their game on possession, they play on the floor. It's more or less the same system."
   
Deschamps faces a different problem to Del Bosque. He must keep the players' focused and motivated, because as, Euro 2016 host, France has only friendlies ahead.
   
"Players will be very much in demand from their clubs playing in the Champions League. If it's not a prestigious opponent like tomorrow, then sometimes you have to motivate yourself," he said. "That's the difficulty. But they should have in a corner of their mind that it's a privilege to come and play for France and it's their duty."