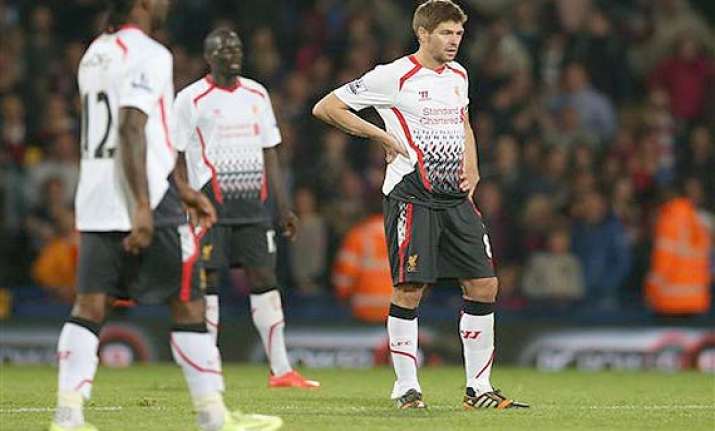 LONDON : Liverpool regained the lead in the English Premier League but the crown slipped further from its grasp as it threw away a three-goal lead in a 3-3 draw away to Crystal Palace on Monday.
The stunning outcome put Liverpool a point above Manchester City, but City has a game in hand and can win its second title in three years with four points from its last two games.   
When asked if the title race was now over, Liverpool coach Brendan Rodgers said, "Yes, it probably is," and rued the irony of his team's leading league position but fading title hopes.   
"We're going top with 81 points with a week to go in the season and we're sat here devastated," he said, insisting Liverpool's title challenge was not a one-season flash in the pan.   
"I'm here to fight, to win titles, and I'll be relentless in my quest," he added. "We're trying to build something that's sustainable."   
Overconfidence sowed the seeds of Liverpool's downfall against Palace, Rodgers said, and suggested his team at times was reminiscent of "Roy of the Rovers," a British football comic strip famed for depicting swashbuckling play.   
"We maybe thought we could play `Roy of the Rovers' football and make up the goal difference (to City) but tonight was about winning the game," he said. "We didn't manage the game well at 3-0."   
Liverpool was romping to a bonus big win to help its goal difference thanks to a first-half goal by Joe Allen before Daniel Sturridge and Luis Suarez scored in quick succession in the second to be leading 3-0 by the 55th minute.   
Then, Damian Delaney exposed Liverpool's vulnerability to counterattacks as he scored in the 79th, launching a dramatic turnaround and deflating the Reds. They didn't recover, as Dwight Gayle cut the deficit to one two minutes later, and drew level with his second goal in the 88th.   
Suarez, the league's new player of the year, was in tears on the final whistle and covered his face with his shirt as he left the pitch, with his team highly unlikely to claim a first title in 24 years.   
The title race is certain to go to the last day of the season on Sunday, and City's superior goal difference means a win and a draw from its last two games will guarantee the title. City faces Aston Villa on Wednesday, and West Ham United on Sunday, both at home.   
Liverpool started strongly and seemed to have put the preceding 2-0 defeat to Chelsea behind it when Allen darted to the far post to head in Steven Gerrard's corner, his first league goal in over two years.   
Leading only 1-0 at the break, Liverpool came out fighting in the second half, forcing Palace goalkeeper Julian Speroni to tip a Sturridge shot onto the post in acrobatic style, before Suarez missed an open goal on the rebound.   
Sturridge doubled Liverpool's lead with a deflected shot on 51 minutes, and Suarez combined with Raheem Sterling to make it 3-0 with a calm low finish two minutes later.   
Chasing a big win to reduce City's goal-difference advantage, Liverpool continued to pour men forward and was repeatedly caught on the counterattack as Palace scored three goals in the space of nine minutes.   
Delaney's 25-yard speculative shot veered in off Glen Johnson's leg into the top right corner of the net, then Gayle scored his first, coolly finishing off a Yannick Bolasie cross.   
Gayle leveled in the 88th, slotting past goalkeeper Simon Mignolet when Glenn Murray controlled a long pass.   
"At 3-0 you're staring down the barrel. When we got the first goal I actually thought we'd have a squeak," Palace coach Tony Pulis said. "Then the support, everything, took off. It was amazing."   
Palace's final home game of the season saw the home crowd leave in buoyant mood following a season in which the London team was expected to battle only against relegation in its first season since returning to the Premier League.   
It has ended up shaping the title race, adding Liverpool's scalp to that of Chelsea, beaten 1-0 while leading the league in March.   
Palace can no longer overtake 10th-place Stoke City, and will secure 11th with a point away to relegated Fulham on Sunday.