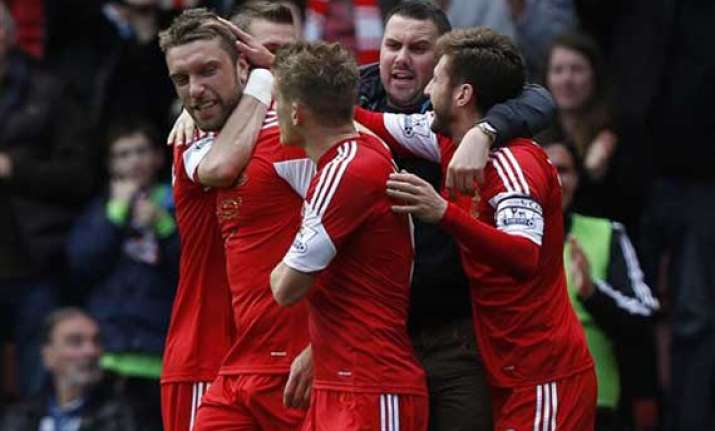 Luton, England: Only six England players in Brazil will have previous World Cup experience after Roy Hodgson turned to younger players who have impressed him with their spirited Premier League performances.
The oldest squad member is midfielder Frank Lampard, who turns 36 next month, while the youngest is 18-year-old defender Luke Shaw, who only made his international debut in March. Eleven members of the 23-man squad have made 10 appearances or fewer for England, which opens its campaign in Brazil against Italy on June 14.   
"Circumstances will prove whether the decision to take the younger player was right or not," Hodgson said at the squad announcement at a car factory in Luton, north of London.   
"You get experience by getting the opportunity. It's wrong to focus totally on the fact there are those who are inexperienced because everyone is inexperienced until they get the chance to do the job. I think they've played so well and been so effective in their club teams that they've really imposed their ability on my thinking."   
Shaw, who is being pursued by Manchester United in the summer transfer window, displaced 33-year-old Ashley Cole from the squad to be understudy at left back to Leighton Baines. But, with Cole announcing his international retirement after being dropped, the decision could backfire if Baines is injured in the first warm-up match.   
"If Baines suffered an injury ... it would make the selection of Shaw a very bad selection," Hodgson said.   
In a squad captained by 33-year-old Steven Gerrard, fellow midfielder Lampard made the cut whereas Michael Carrick, who went to the 2006 and 2010 World Cups, is only on the standby list following a lackluster season with Manchester United.   
"Frank is a very important part of our setup and you shouldn't think about players in terms of age, but of position," Hodgson said. "When you're in midfield you have many more positions to choose from.
"Frank has been captain on many occasions and has been vice captain to Steven Gerrard. He still plays an important role for his club (Chelsea) and we think his leadership qualities and his abilities will help us in the summer."   
In the search for dynamism, Hodgson is taking 19-year-old Liverpool winger Raheem Sterling and Ross Barkley, a 20-year-old Everton midfielder, despite having only five appearances between them.   
"He's a very, very exciting player, a very exciting talent and if he can continue at that level he has a very exciting future ahead of him," Hodgson said of Barkley. "But I would hope people will temper their expectations of him."   
Hodgson has selected four strikers: Manchester United duo Wayne Rooney and Danny Welbeck, Daniel Sturridge of Liverpool and Rickie Lambert, who has climbed with Southampton from the third tier to the Premier League.   
"I've been suffering with my sleep and getting up in the middle of the night because I'm just lying there thinking about the possibility of going to the World Cup," said Lambert, who has scored two goals in his four England appearances. "Over the last week, I've been sleeping less and less and last night it was virtually impossible because my head was everywhere."   
Lambert has pushed Jermain Defoe, who moved to Toronto FC earlier this year, and West Ham's Andy Carroll to the standby list.   
"I'm sure if I'd picked a squad after the final qualifier in October it would have looked quite different, but a lot of water has passed under the bridge since then," Hodgson said. "You can't ignore what people are doing on a week-to-week basis and your decision is based on who is the best man for the job."
Squad:
Goalkeepers: Joe Hart (Manchester City), Fraser Forster (Celtic), Ben Foster (West Bromwich Albion)   
Defenders: Leighton Baines (Everton), Gary Cahill (Chelsea), Phil Jagielka (Everton), Glen Johnson (Liverpool), Phil Jones (Manchester United), Luke Shaw (Southampton), Chris Smalling (Manchester United)   
Midfielders: Ross Barkley (Everton), Steven Gerrard (Liverpool), Jordan Henderson (Liverpool), Adam Lallana (Southampton), Frank Lampard (Chelsea), James Milner (Manchester City), Alex Oxlade-Chamberlain (Arsenal), Raheem Sterling (Liverpool), Jack Wilshere (Arsenal)   
Forwards: Rickie Lambert (Southampton), Wayne Rooney (Manchester United), Daniel Sturridge (Liverpool), Daniel Welbeck (Manchester United)