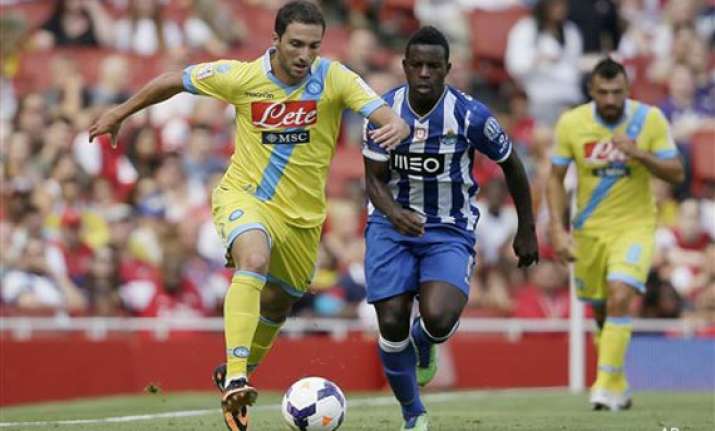 London, Aug 4: FC Porto took advantage of defensive blunders in the second half to beat Napoli 3-1 on Sunday in the Emirates Cup.
The Portuguese team recovered from a first-half deficit thanks to a strike by forward Nabil Ghilas in the 50th minute and an own goal by Napoli defender Federico Fernandez 18 minutes later.
Lica came off the bench to seal the result for Porto in the 78th, picking up a loose pass in front of goal by Andrea Dossena.
Napoli took the lead in the first half thanks to a penalty converted by forward Goran Pandev, who was brought down in the box by Fernando.
But as the match wore on and Porto picked up the pace, the Italian side struggled to keep up.
They were caught off guard by counterattacks, with Porto's playmaker Juan Quintero creating several chances for the forwards.
New Napoli coach Rafael Benitez blamed his side's sluggishness on preseason training sessions that are still weighing on the players.
"Physically we're not at the right level yet," he said. "The team has trouble when we lack freshness. We suffer counterattacks."
The win gives Porto a provisional lead in the two-day preseason tournament at the Emirates Stadium.
It has six points, with Galatasaray and Napoli at four and Arsenal on three.
London host Arsenal plays Galatasaray later Sunday in the final match of the cup.