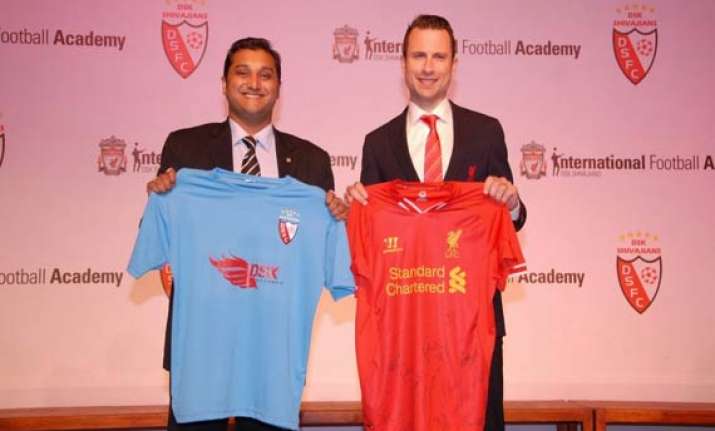 Mumbai: I-League division 2 club DSK Shivajians of Pune have tied up with famous English Premier League club Liverpool to start a residential international football academy near Pune, for which a talent hunt programme is on.
The talent hunt has already covered Aizawl, Shillong and Goa and picked up 37 talented under-17 and under-19 boys. The second stage of the process would be held in Mumbai, Delhi and Pune this month, it was announced today.
A total of 64 boys would be picked for the academy to be situated at Loni, Pune, which would start functioning from June 1.
Liverpool Academy coaches Ray Curtis and Michael Rice are shortlisting the trainees who have to pay an annual fees of Rs 3.5 lakh and Rs 4.5 lakh respectively when they join.
"We will give scholarships to ten talented boys each in the two age groups depending on economic criteria while the rest have to pay the fees that will cover their stay and food expenses," said DSK Shivajians president Shirish Kulkarni.
"The selection would be purely merit-based. The two Liverpool coaches and two other Indian coaches with AIFF or AFC certificates will be attached with the academy. The football curriculum would be structured around the educational curriculum," he said.
Kulkarni said 10 hand-picked boys would be sent to Liverpool FC to train there for a week or so.
Asked what the boys will do after they complete their football education in the academy, Kulkarni said a maximum of 10 will be absorbed by DSK Shivajians while the rest would be eligible to be picked up by other I-League clubs.
Cricket Club of India has also tied up with the LFC-DSK Shivajians academy to conduct clinics for its members this month, said CCI Executive Committee member Sachin Bajaj.