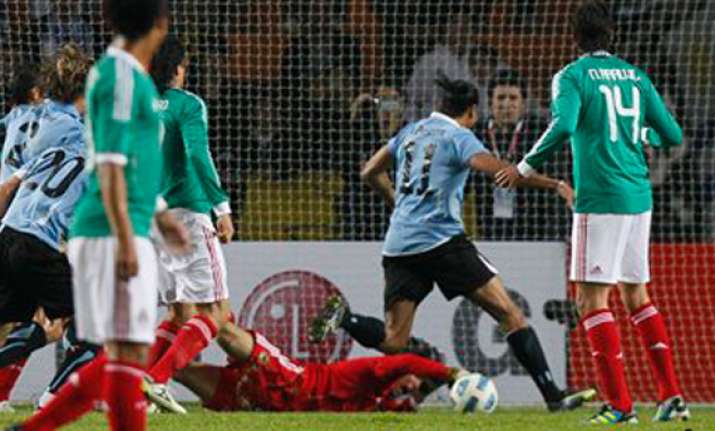 Buenos Aires, Jul 13: One of the Copa America quarterfinals is set, and it's a classic: Argentina vs. Uruguay.

World Cup semifinalist Uruguay guaranteed the showdown by defeating Mexico 1-0 on Tuesday to secure second place in Group C and a quarterfinal against the second-place team in Group A, which is archrival Argentina.

In Tuesday's other Group C match, Chile defeated Peru 1-0 to top the group. Chile will face the second-place team in Group B, which will be determined on Wednesday when Brazil faces Ecuador and Paraguay plays Venezuela.

Six teams have already reached the knockout rounds—Colombia, Argentina, Uruguay, Venezuela, Chile and Peru—but the other three quarterfinals pairings won't be known until the last two qualifiers are confirmed.

The top two teams in each of the three groups advance automatically, and the best two second-place teams also move on.

The quarterfinals will be played Saturday and Sunday.

"Chile deserved to win the group," said Chile coach Claudio Borghi, who took over from Marcelo Bielsa following the World Cup. "I think our play was pretty good, and I'm content."

Chile has been the best team in the group stage, following on from last year's World Cup in which it reached the second round for the first time since 1962.

"We've never had this (been favorites), and now that we have it we have to take advantage," Borghi said. "It's doesn't weigh on me being a candidate. When this team plays, it looks like a candidate to win it."

Chile earned Tuesday's victory when Peru scored an own-goal two minutes into second-half stoppage time. Peru substitute Andre Carrillo deflected the ball into an open net from a corner by Jorge Valdivia.

Both teams were reduced to 10 men from the 62nd when Chile's Jean Beausejour and Peru's Giancarlo Carmona were ejected for an altercation.

Alvaro Pereira scored Uruguay's only goal Tuesday, swooping when Mexico goalkeeper Luis Michel parried Diego Forlan's 30-yard free kick in the 15th minute and chipping it in.

Uruguay should have scored more, with Forlan missing three or four clear chances. Forlan is now scoreless in his last 10 matches with the national team.

"This is basically the same group that went to the World Cup," Uruguay coach Oscar Tabarez said. "But things have changed."

Uruguay and Argentina have each won the Copa America 14 times, more than anyone else. Brazil has won eight.

It was a disappointing tournament for Mexico, which was the runner-up in 1993 and 2001.

Mexico lost all three of its matches fielding a second-string team. Mexico played in the Copa America as a guest and fielded a mostly under-23, Olympic-style team. Its first team won the Gold Cup in June, defeating the Untied States 4-2 in the final.

CONCACAF, the governing body of football in North and Central America and the Caribbean, declined to let Mexico field a full-strength team, fearing it would detract from the Gold Cup tournament.

The two matches in Group B on Wednesday wrap up the first round.

Venezuela leads the group with four points and is already in. Paraguay and Brazil each have two points and Ecuador has one.

Five-time World Cup champion Brazil needs a win to guarantee itself a place in the quarterfinals.

Brazil defeated Argentina in the last two Copa America finals, and has won four of the last five titles.

The Brazilians say they're not worried about playing beautiful football.

"It's always good to play well, but the only thing we need right now is a result that will keep us in the tournament," striker Fred said. "We need to win, then we can start worrying about getting better and playing the type of football the fans like to watch."

Line-ups

Uruguay: Fernando Muslera, Maximiliano Pereira, Diego Lugano, Sebastian Coates, Alvaro Pereira, Alvaro Gonzalez (Nicolas Lodeiro, 68), Diego Perez, Egidio Arevalo Rios, Cristian Rodriguez (Sebastian Eguren, 83), Diego Forlan (Sebastian Abreu, 89), Luis Suarez.

Mexico: Luis Michel, Paul Aguilar (Javier Aquino, 45), Hiram Mier, Hector Reynoso, Nestor Araujo, Darvin Chavez, Diego Reyes, Jorge Enriquez Garcia, Miguel Ponce (Edgar Pacheco, 70), Giovani Dos Santos (Oribe Peralta, 45), Rafael Marquez Lugo.