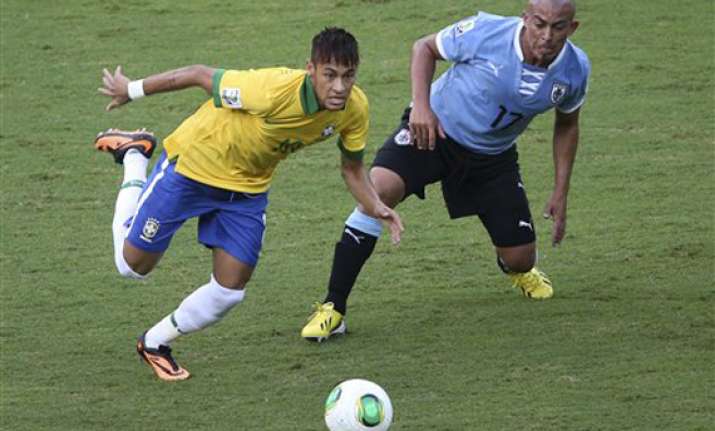 Rio de Janeiro, June 28 : Neymar has already done a lot at the Confederations Cup to erase many of the doubts about what he can do for Brazil.
Another good performance in the final against Spain on Sunday and few will be able to dismiss him as the future of Brazilian football.   
Neymar made headlines across the world before the Confederations Cup by signing with Barcelona, but he arrived at the World Cup warm-up tournament marked by lackluster performances in the famous yellow jersey.   
He quickly changed that by scoring three goals in four matches, leading Brazil to the much-anticipated final against Spain. The 21-year-old striker was voted man of the match in the team's first three matches and was decisive again in the semifinal against Uruguay.   
"Barcelona must be beaming seeing what he has been doing here," Brazil coach Luiz Felipe Scolari said. "He has been playing well, making a difference against European defenders."  
Wearing the No. 10 jersey, Neymar opened the scoring for Brazil in the opener against Japan and also in the second match against Mexico, both times with remarkable goals. He netted his third with a well-placed free kick against Italy, and he also assisted in both Brazil goals on Wednesday against Uruguay.   
"Neymar is our idol, he is the people's idol," Scolari said. "He has had a nice string of matches and everybody is happy about that. It's important for him to be going through all of these different situations with Brazil because it's something that will make him even better in the future."   
Neymar attracted everyone's attention with great performances with Santos in Brazil, but critics were quick to downplay his potential after he failed to replicate that same success with the national team.   
He was often criticized for diving too much, an issue that came up again during the Confederations Cup when Uruguay captain Diego Lugano publicly accused the Brazilian striker of trying to "fool the referees and the rivals."   
The remarks prompted the Brazilian football federation to put out a lengthy statement in the player's defense.   
"It's worth repeating that Neymar doesn't need to resort to diving to play the type of football that is enchanting the world," the federation said.   
At the tournament Neymar has, like many attackers, gone to ground easily, but has also looked more muscular and resistant to the attentions of some of Europe's best and biggest defenders.   
Neymar had been struggling before announcing his move to Barcelona. He hadn't scored in nine matches and many doubted whether he would come through for Brazil.   
The Confederations Cup is his third significant competition with the national team. He helped Brazil's under-20 squad win the South American championship in 2011, but his first test with the senior team was the 2011 Copa America, when Brazil was eliminated by Paraguay in the quarterfinals.   
The second was in the 2012 London Olympics, when he was the star of the Brazilian squad that was favored to win its first Olympic gold medal in football but left with the silver after a loss to Mexico.   
Neymar was among the players loudly jeered by home fans after playing poorly in a 2-2 draw in a friendly with Chile earlier this year.   
The final against Spain at Maracana Stadium should provide the perfect stage for Neymar to win his first significant title with Brazil. And for him to prove his critics wrong for good.   
He has been waiting for that chance for a long time.   
"It would be a dream come true to play a final against Spain," Neymar said even before the Confederations Cup began. "It's a great team, with great players. I would do anything to try to beat them and give Brazil the title."