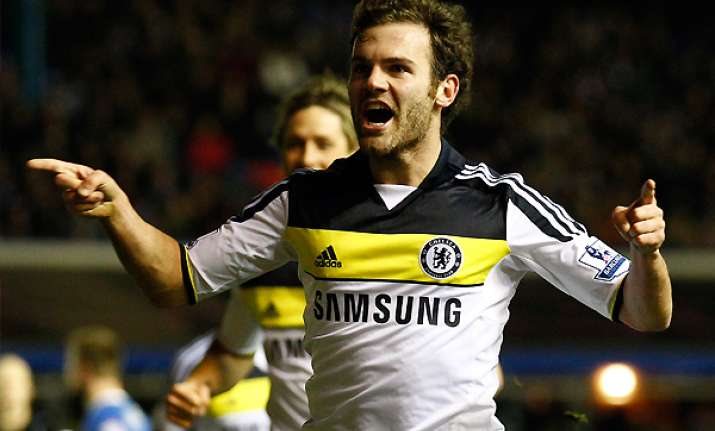 London, Mar 9: Chelsea starts the hard work of trying to claw its way back into the Premier League's top four against Stoke on Saturday, with players still adjusting to the firing of coach Andre Villas-Boas.

Villas-Boas was fired a day after last weekend's defeat at West Bromwich Albion left perennial Champions League qualifier Chelsea three points behind fourth-place Arsenal with just 11 games remaining.

Replacement Roberto Di Matteo led Chelsea to a midweek FA Cup win in his first match but winger Juan Mata said he is still trying to refocus.

"With Andre I played a lot of games and for me he was important," Mata said. "I came here first for the club but as well for him and he gave me a lot of confidence, so for this I am very grateful to him.

"(But) the most important thing now is to think of Roberto Di Matteo, who is our coach, and to finish well in these two months."

Also Saturday, third-place Tottenham is at Everton. If Spurs win and Chelsea loses, the Blues would be 10 points behind automatic Champions League qualification.

Leader Manchester City is at Swansea on Sunday, when Manchester United is at Wolverhampton Wanderers. Arsenal hosts Newcastle on Monday, aiming to put more pressure on Spurs and push Newcastle out of the race for fourth place.

Mata said it helps the players that Di Matteo, a former Chelsea player, was already at the club as Villas-Boas' assistant but acknowledged that it is hard to adjust to a change in leadership midway through the season.

"This week was not easy for us with a change of the manager, but when you are on the pitch you are always thinking of giving your best," Mata said. "We were sad because it is always a difficult moment when a club changes its manager.

"(Villas-Boas) is a very good manager and a very good person, but now we keep working without him, with Robbie."

Di Matteo left Frank Lampard, Didier Drogba, Michael Essien and Daniel Sturridge out of his starting lineup for Tuesday's FA Cup win over second-tier Birmingham. He could persist with Fernando Torres up front as the Spain striker tries to regain the scoring form that has deserted him over the past year.

"I went to Birmingham and watched him the other night and I thought he did absolutely fantastically," Stoke manager Tony Pulis said of Torres. "I thought he worked his socks off and that his movement was brilliant. He just needs a little bit of luck in front of goal. I just hope he doesn't get it against us on Saturday. His attitude was fantastic."

Chelsea won the corresponding fixture against Stoke 7-0 on its way to the 2010 Premier League title but has drawn its last two matches against the team.

Captain John Terry could return to the starting lineup after making his comeback from injury as a substitute in midweek.

Back-to-back defeats to Arsenal and Manchester United have ended Tottenham's hopes of winning a first league title since 1961 but Wednesday's 3-1 FA Cup win over Stevenage should lift players for the trip to Everton.

Everton's 2-1 win over Tottenham last season was its first victory in seven home matches against Spurs. The Toffees are on an eight-game unbeaten streak in all competitions, with their last defeat coming against Tottenham — 2-0 on Jan. 11.

Also Saturday, Bolton hosts Queens Park Rangers, Aston Villa hosts Fulham, Liverpool is at Sunderland, and Wolverhampton Wanderers host fellow struggler Blackburn.

City and defending champion United both play Sunday to give them an extra day to recover from Thursday's Europa League matches, while Norwich hosts Wigan in the day's other match.

League Championship leader Southampton hosts Barnsley in the second tier on Saturday, when second-place West Ham hosts Doncaster.