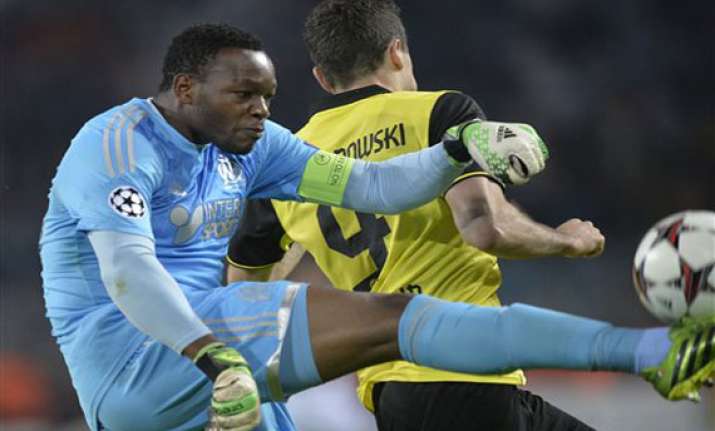 Dortmund, Germany: Two goals from Robert Lewandowski steered Borussia Dortmund to a 3-0 victory over Marseille that kick-started his team's campaign in the Champions League on Tuesday.
Having lost its opening match to Napoli, Lewandowski's goals and another from Marco Reus put last season's finalists on track in Group F, while Marseille slipped to a second consecutive defeat.   
Lewandowski scored his first in the 19th after a fast break by Dortmund and converted a penalty in the 80th. Reus scored in between from a free kick in the 52nd.   
"We played a very good game, but we have to play the next one just as well," Lewandowski said.   
Arsenal leads the group with six points after a 2-0 win over Napoli, which has three points.   
Dortmund coach Juergen Klopp watched from the stands after being banned from the sidelines for one match because of an outburst against officials in his side's 2-1 loss at Napoli.   
"It was strange to look around and not see the coach, we won this one for him as well," defender Kevin Grosskreutz said.   
Despite Klopp's absence, Dortmund produced a dominant performance, with Marseille hardly creating any chances after some early threats.   
Dortmund's first goal came as a result of a textbook counterattack. Dortmund won possession deep in its half, moved the ball at lightning-fast pace down the field until Henrikh Mkhitaryan got it on the right and switched it to the opposite flank. Eric Durm, making his Champions League debut at left back, sent the ball back into the middle for the on-rushing Lewandowski, who practically walked into the net with it.   
"That was an outstanding goal, we played high-class football," Klopp told German television. "On the few occasions we gave them space, they showed what a good team they are."   
Marseille replied quickly, but Mathieu Valbuena's free kick was turned away by Mitch Langerak.   
At the other end, Steve Mandanda made a superb save from Lewandowski in a one-on-one.   
Both teams played at a lively pace and also had early chances. Reus shot well from the edge of the box but Mandanda parried, while Marseille's Saber Khalifa had claims for a penalty denied.   
Dortmund all but put the match away with its second goal.   
Reus floated a looping free kick from long range that Mats Hummels tried to catch with a glancing header. Hummels failed but the ball bounced and Mandanda appeared distracted by Hummels' move, allowing the ball to trickle over the line.   
The Marseille goalkeeper then saved a fine attempt from Durm.   
Lewandowski secured the victory after Nicolas N'Koulou had tripped Reus in the penalty area. Reus had escaped a pair of tackles but had already lost control of the ball before N'Koulou's late and unnecessary challenge.