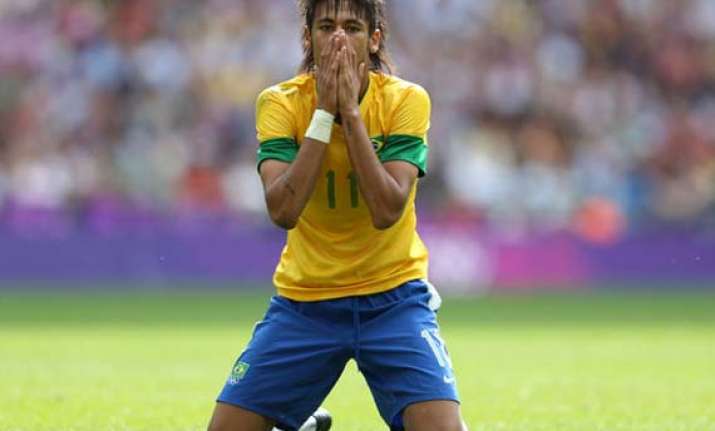 East Rutherford, New Jersey, Nov 15: Neymar scored a goal but missed a late penalty kick as Brazil had to settle for a disappointing 1-1 draw against Colombia in a friendly on Wednesday.
The 20-year-old Brazilian star got the equalizer for Brazil in the 64th minute by using his quick feet to get around a defender.
But after Pablo Armero pulled down Daniel Alves in the penalty area in the 81st, Neymar sent his penalty kick about 15 yards over the crossbar and into the stands.
Juan Cuadrado scored in the 44th to give Colombia the early lead.
No. 13 Brazil, ranked five spots below Colombia, never took the lead against a team it hasn't lost to in 21 years. The Brazilians have 15 wins, two losses and eight draws against the Colombians overall.
Brazil had its chances early. Kaka, who returned to the national team last month for the first time since the 2010 World Cup, pulled an open shot wide in the 18th minute. Neymar's point-blank header off Daniel Alves' cross was stopped by goalkeeper David Ospina in the 24th, and Kaka's long-range shot clanked off the crossbar in the 32nd.
Brazil leftback Leandro Castan, playing because Marcelo is sidelined for three months with a broken foot, was under repeated attack in his second international appearance.
Colombia scored after breaking through with an attack down his side. James Rodriguez pushed ahead a pass to Cuadrado, whose right-footed shot beat goalkeeper Diego Alves to the far post for his third international goal.