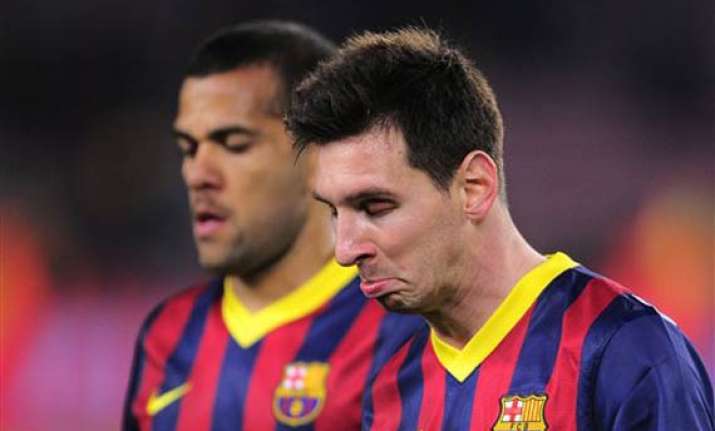 BARCELONA, Spain: Barring a drastic turn of fortune, Barcelona is on the brink of finishing its worst season since former coach Pep Guardiola molded it into one of the most successful sides to play the game.
Barcelona's stinging 2-1 loss to Real Madrid in the Copa del Rey final on Wednesday completed an eight-day span that can be described as a debacle for the Catalan club.   
Sports daily Sport summed it up with the headline: "This winning era is over, let the new one begin!"   
Barcelona hadn't lost three games in a row since the 2002-03 season, and a campaign that promised to bring home at least one piece of major silverware is close to being its first without an important trophy since Guardiola took over in 2008.   
Xavi Hernandez said he had heard Barcelona being written off "for years now," but acknowledged one day the end "would have to come."   
The sense of crisis at Camp Nou is not just based on the trio of defeats that left it out of the Champions League semifinals for the first time in seven seasons, trailing in third place in the league, and cost it the cup trophy to its fiercest rival.   
Equally as worrying is forward Lionel Messi's erratic form after a year riddled with injuries.   
Once as reliable as he was electric, Messi went from scoring a hat trick at Madrid last month to a string of sub-par performances where he spent long periods looking uninterested and even lethargic.   
As Messi goes, so does the team, which no longer presses opponents for long stretches to set up its passing attack.   
Even though Barcelona's slide began last season with its 7-0 loss to Bayern Munich over two legs in the Champions League, it has reached new lows with this series of stumbles across all three competitions in a little over a week.   
Coach Gerardo Martino looks certain to be replaced this summer, unless both Spanish leader Atletico Madrid and Madrid drop points and Barcelona can overtake them with five rounds to go in the league.   
The first-year Argentine manager was already under heavy pressure for his lineup choices before the Copa del Rey loss.   
After the result against Madrid, Martino appeared to claim he was hamstrung by Barcelona's control style perfected by Guardiola and his assistant-turned-successor Tito Vilanova.   
"Barca has a way of playing that is unique and not very modifiable, no long balls forward, no big striker," said Martino. "Normally it creates scoring chances, but when you aren't precise it is tough to move the ball inside tight spaces. (The problem) is a lack of precision in the last 20 meters. For me, this is not a question of motivation."   
The rapid demise of Barcelona's title hopes comes amid a season full of uncharacteristic trouble.   
First it was Messi's tax problems, then came his leg injuries. That was followed by a court investigation into the signing of Neymar, which led to President Sandro Rosell resigning. 
This month, FIFA said it was banning Barcelona from signing new players for one season due to its breaching of regulations regarding the signing of youth players.   
Barcelona has proven capable of a quick turnaround. It is often overlooked that the "golden age" established by Guardiola and the team's 14 of a possible 19 titles in four seasons was preceded by Frank Rijkaard's revival of the team with Ronaldinho.   
Messi is still in his prime, Neymar has shown flashes of greatness, and Andres Iniesta and Sergio Busquets continue to play well.   
But it will need to replace veteran defender Carles Puyol and goalkeeper Victor Valdes, and the FIFA transfer ban means it must rely solely on its productive football academy to rejuvenate its squad.   
Martino bestowed his confidence in the group of players he will likely leave behind.   
"This is a team, (and) when you analyze it and look at the ages of its players, you see it has a lot left in it," Martino said. "It can get better results than those of this year."