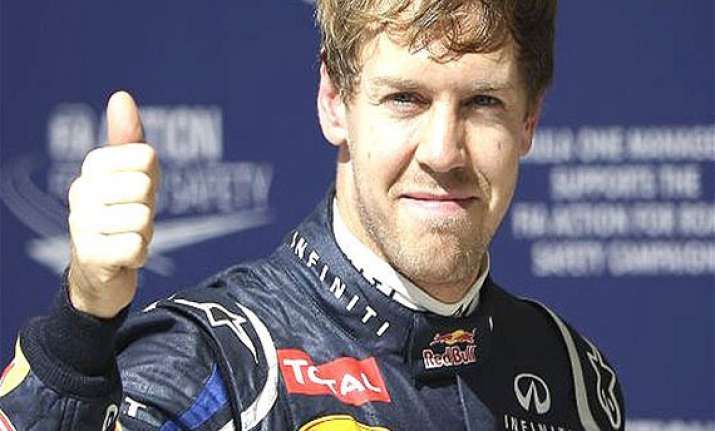 Greater Noida:  Three-time World Champion Sebastian Vettel is hopeful that the Indian Grand Prix will return in 2015.The Indian round was dropped from the 2014 calendar and is provisionally scheduled for early 2015.
With several political, tax and other logistical issues surrounding the race, there is the feeling that it might not return next year..
"It is a pity we are not coming here next year. Most of us like the track here. The track and facility here is very modern; so it is nice to visit in these regards. I hope and think we will be back in 2015," said Vettel here Thursday ahead of the Indian Grand Prix this weekend.
Asked how much of India he has seen in the last three years, the Red Bull driver replied that their packed schedules didn't allow them to do much sightseeing.
"Well once we come to the paddock Thursdays, after that we don't get to see much around here. I haven't had the time to go and see India either, plus it is such a big country. But I have always found the people here very friendly," added Vettel, who has a 100 percent record at the Buddh International Circuit (BIC), winning the first two editions.
The three-time World Champion is likely to clinch his fourth drivers' title here which will put him in a very elite list comprising of legends like Juan Manuel Fangio, Alain Prost and Michael Schumacher.
The 26-year-old German needs to finish fifth or better Sunday, irrespective of where Ferrari's second placed Fernando Alonso finishes, to lift the title for the fourth consecutive time, a feat achieved only by Fangio and Schumacher previously.
"The fourth title will be as good as the first three. All titles are special and it feels very special. It is incredible what we have achieved and it is nice to be in that elite group. But I am not really focussing on that. Most important is that we do well in the race. Obviously winning the championship is the target but I don't think about it all the time," added Vettel.
Questioned about the race, the German said that it is going to be a tough weekend.
"Everyone is going to try their best to stop us. It is going to be a tough weekend as the others are going to push us. It is great to know that we are in a good position and that we have a good gap between us and the others," signed off the defending World Champion.