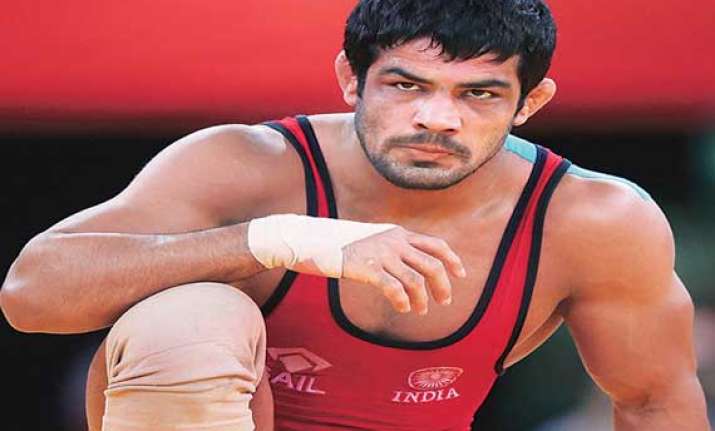 New Delhi: All geared up to fight for the first time in a new weight category, double Olympic medalist Sushil Kumar says the upcoming Senior International wrestling tournament in Italy will help him identify the areas he would need to work on ahead of the Commonwealth Games in July.
Sushil, who won bronze in 2008 Beijing Games and silver in 2012 London Games in the 66kg freestyle category, moved up to 74kg after world body FILA decided to drop his weight category in December last year, while tweaking 19 other weight divisions.     
"I am sure I will gain a lot of experience in this tournament. This competition will help me assess where I stand at the moment and I will be in a better position to know which areas will I would need to work on in my new weight category," Sushil told PTI before leaving for Italy.     
"This tournament is very important for me," he added.     
A strong 13-member Indian team, including seven women and six men, left last night for Sassari City for the May 30-31 event. Besides Sushil, London Games bronze medallist Yogeshwar Dutt will also be competing for the first time in his new weight category - 65kg - at an international tournament.     
Sushil said that the level of competition at the event will be very high as wrestling powerhouses like Russia, Cuba, Kazakhstan and Iran would all be a part of the tournament.     
"There will be about 12-13 teams, including wrestlers from Russia, Cuba and Kazakhstan. They are all very tough.     
"In fact, all teams will pose a lot of threat. They are all very good and it all depends on how you perform in your particular bout. The competition will certainly be very tough," said Sushil.     
World champion grappler, who currently weighs 73 kgs, said he was happy with his fitness but admitted that taking on wrestlers who are almost 76-77 kgs may be a bit of a problem for him.     
"This will a first major tournament after London Olympics 2012. But I am very confident of doing well and my fitness level is also very good at the moment," Sushil said.     
"My current weight is 73kgs and I will have to see how I compete against someone whose actual weight is about 76 or 77kgs," he pointed out.