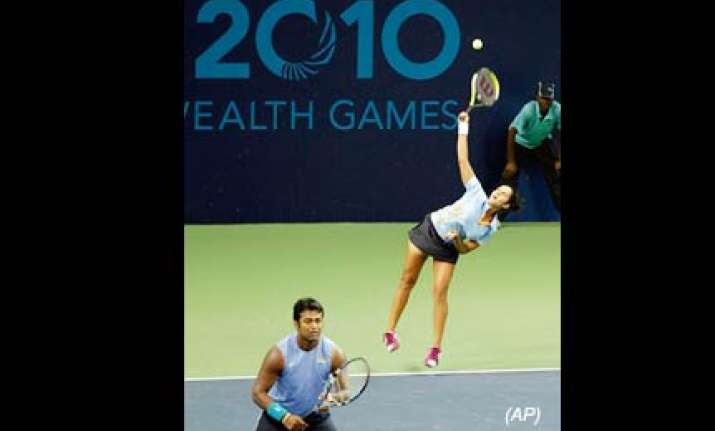 New Delhi, Oct 7: Star pair of Leander Paes and Sania Mirza crashed out of the mixed doubles event after suffering a shock defeat even as India's other players, including top seed in men's singles Somdev Devvarman, reached the semifinals of five other events.
The defeat of second seeds Paes and Sania, 2006 Asian Games gold medallists, came as a rude jolt as they were considered favourites to win the event.
However, Scotland's Colin Fleming and Jocelyn Rae shocked the Indian duo 7-5 6-4 to pull of one of the biggest upsets in the competition so far .
Before the shock defeat of Paes and Sania, India had an extremely successful day with five wins out of six matches in different events.
Although Paes and Sania were playing together for the first time since their Doha triumph in 2006, were still considered hot favourtites to win gold in the mixed doubles event.
For India, the day began on a high note as Somdev edged past New Zealand's sixth seed Rubin Statham 6-3 6-4 while Sania overcame a rusty start to register an easy 6-2 6-3 win over eighth seed Kiwi Marina Erakovic to seal semifinal places.
After an easy outing against Sri Lanka's Amresh Jayawickreme, Somdev had to do a lot of hard work today as the Kiwi engaged the crowd favourite Indian in a keen tussle.
It was a hard earned win for the 97th ranked Indian as his yesterday's win came in just 41 minutes but today he had to toil for an hour and 42 minutes against a rival, who is placed 353 in the ATP list.
Somdev missed out on three match points in the seventh game while leading 5-1 and dropped his serve in the eighth, making the home fans jittery, but finally served out the match in the 10th game.
"I am happy to be in semis, I am happy with closing it down. The courts are a bit slow, but I am really fit thanks to my coaches," Somdev said after the match.
Sania, who began by dropping her serve in the first game of the match, took 66 minutes to clear the quarter-final hurdle as she broke Erakovic twice in both the sets.
"I am feeling good. I knew I had to be sharp. I didn't want to get her the lead as I knew how good she is. I had to keep my concentration up. I am happy I could pick up," she said.
The day got even better when the unseeded pair of Nirupama Sanjeev and Poojashree Venkatesh shocked second seeded British pair of Sarah Borewell and Anna Smith 7-5 6-4 in the women's doubles quarter-finals.
However, a nerve-wracking match was in store for the hosts as the star pair and top seeds Leander Paes and Mahesh Bhupathi were pushed to limits before they eked out a 6-2 6-7(4) 7-6 (4) win over a gritty British pair of James Ward and Joshua Goodall.
The Britons played their hearts out, laughed off the loud cheers reserved for the home favourties and went on to the produce one of the most intense matches of the tournament so far. Bhupathi applauded their effort.
"They guys played way above their level. And thats what we usually expected when someone has to beat us. We were countered constantly. There was pressure on us in the third set. We are always expected to win, therefore pressure is always there," he said.
The men's doubles pair of Somdev and Rohan Bopanna, seeded second, also had to slog to beat Australian pair of Matt Ebden and Greg Jones 7-6(5) 6-4 in their quarter-finals.
Rushmi Chakravarthi's impressive run ended after a 5-7 4-6 defeat against sixth seed Australian Olivia Rogowska, who will now meet Sania for a spot in the title round.
Both Rushmi, who shocked third seed yesterday, and Rogowska were erratic and strgguled to hold serve throughout. The Australian dropped her serve thrice and Rushmi four times in the second set. PTI