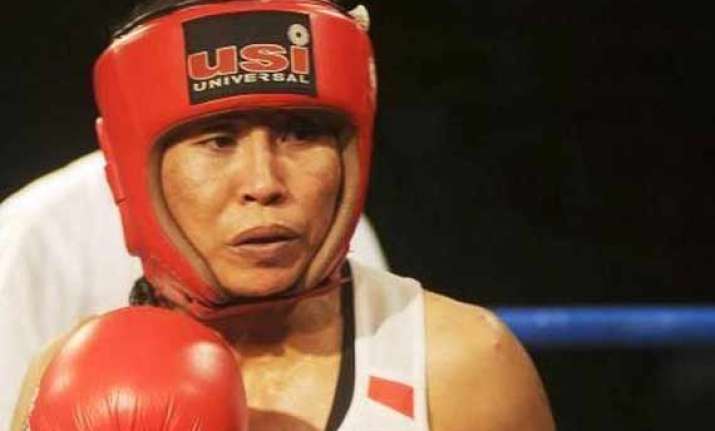 Incheon: A huge controversy broke out today at the Asian Games when India's woman boxer Sarita Devi returned her bronze medal, protesting against her controversial loss to a South Korean, inviting a possible suspension for defiance.
Sarita, who was declared a loser despite dominating the 60kg semifinal bout against home favourite Jina Park, was today inconsolable on the podium and was crying bitterly as she stunned the officials and spectators by refusing to accept the bronze medal, which is now in the custody of organisers.
The boxer was in disbelief yesterday when she lost to Park, who ended up as the silver-medallist. Sarita was clearly the better of the two pugilists but the judges thought otherwise.
Left in the lurch by the accompanying IOA officials, she managed to collect USD 500, including with the help of a journalist and Mary Kom's husband, to lodge an appeal against the verdict but lost.
The former Asian and world champion then left the ceremony. Park, visibly rattled by the turn of events, left the medal on the podium and made her exit.
A sobbing Sarita later told reporters that she had to do what she did at the medal ceremony to continue with her boxing career or else it would have stayed in her mind.
"It's not that I did not want to accept the medal. I accepted it and then gave it back to the Koreans. I had to do this to continue with my boxing career or the memory of this incident would have stayed on in my mind. I would now go back and hug my infant child," she said.
She was ready to accept the consequences of her actions but also accused the Indian officialdom of being uncaring in the whole episode.
"I am prepared for any consequences. Not one Indian official came to us and consoled or even spoke to us."
Hours after her apparent defiance, the AIBA termed her act as regrettable and initiated a disciplinary action process "AIBA has already proceeded its Disciplinary Action Process to review this case, and the decision will be made immediately after the Asian Games," AIBA said in a statement.