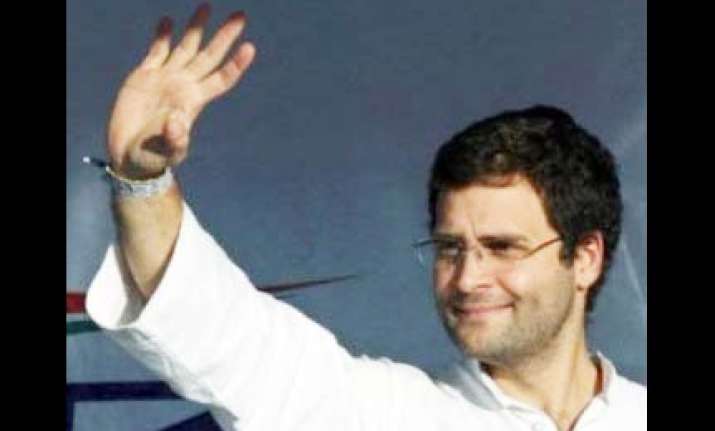 New Delhi, Oct 9: The man in the ring was Asian champion Suranjoy Singh but the crowd started chanting Rahul Gandhi's name when the high-profile Congress MP came to
support the Indian boxers for the second successive day at the Commonwealth Games here today.
Seated in the back row of one of the spectator galleries, the Gandhi scion paid another surprise visit to Talkatora stadium after sitting through a couple of hours in yesterday's
evening session to support Olympic bronze medallist and world number one Vijender Singh.
Gandhi had, in fact, given Vijender a hug after the World Championships bronze medallist won his bout in front of a sell-out crowd last night.
There were no such scenes today after Amandeep Singh (49kg) and Suranjoy Singh (52kg) won their respective bouts to enter the semifinals and assure themselves of at least a bronze. But the popular politician did clap in appreciation occasionally.
But before that, the crowd actually chanted his name even as Suranjoy fought inside the ring. The Congress Secretary General seemed amused and was seen laughing on hearing the crowd's support for him even though he was not the one in action.
Gandhi's love for boxing is well documented and he even learnt the sport for a few months from Droncharya awardee coach O P Bhardwaj.
Five-time world champion and Khel Ratna awardee woman boxer M C Mary Kom was also among the high-profile visitors at Talkatora today but she missed the bout she had come to watch.
"I came to watch Suranjoy but I have missed it. I am so disappointed," she said after entering the arena minutes after her statemate's bout got over.
"I will be there in the semifinals and finals also," she added.
However, her disappointment was lessened considerably when Suranjoy, upon spotting her, called her out for a brief chit-chat before the two Manipuris posed together for the shutterbugs. PTI