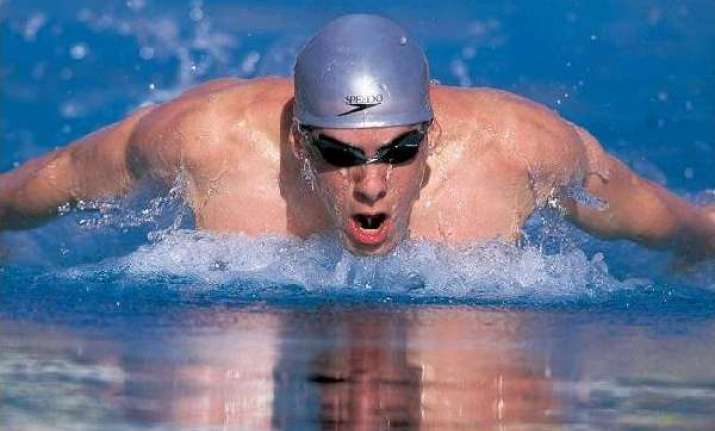 Texas, June 2: Michael Phelps roared to an easy win in the in the 100 butterfly Friday in his final meet before the U.S. Olympic trials after finishing second in the 100 freestyle.
The 14-time Olympic gold medalist finished second to Jimmy Feigen in the 100 free at the Austin Elite with a time of 49.05 seconds to Feigen's 48.63.
Phelps used his poor showing in that race as motivation in the 100 fly, winning in a time of 52.02 that included a final 50-meter split of 27.25.
"I didn't swim smart or very well in the 100, and I got beat because of it," Phelps said. "I was angry with myself for that, and I turned it around a little in the 100 butterfly."
The meet, conducted by the University of Texas aquatic program as an alternative to the season's final Grand Prix event in Santa Clara, California, is Phelps' last competition before the Olympic trials starting June 25.
"Without a doubt, the clock is ticking for the upcoming Olympics, and I have to keep working hard to be where I want to be by July 27," Phelps said.
Four-time Olympic medalist Brendan Hansen won the 200-meter breaststroke in 2:13.54.
Phelps set his first world record at the pool used for this meet as a 15-year-old in March 2001 when he clocked 1:54.92 in the 200 fly. The mark stood just a few months before he broke it himself, but that swim remains a pool record after more than 11 years.
Four-time Olympic medalist Brendan Hansen won the 200-meter breaststroke in 2:13.54, almost 3 seconds slower than his winning time in the 2011 U.S. nationals.
Phelps, 2008 Olympic bronze medal winner Allison Schmitt, and Missy Franklin entered this weekend's meet as the top three point scorers in USA Swimming's Grand Prix series.
Franklin, the world record holder in the 200-meter backstroke (on a short course), warmed up for her best events with a third-place finish in the 100 free in 54.73, behind Schmitt's 53.94 and Megan Romano's 54.16.
Franklin failed to earn a spot in the championship heat of the 400 free, finishing far behind winner Sarah Henry's time of 4:09.16.