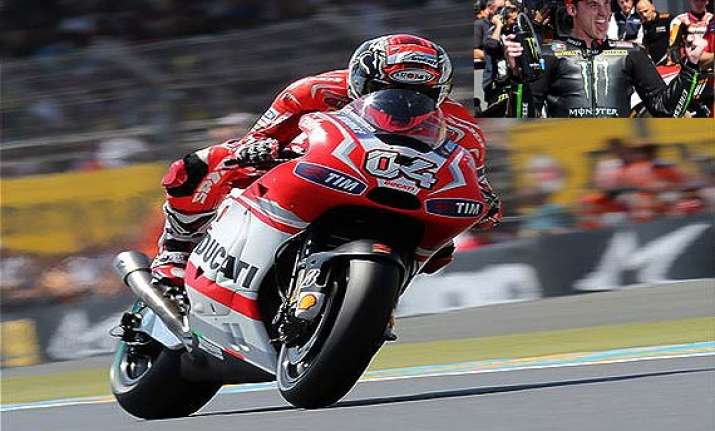 LE MANS, France : Marc Marquez set a track record at Le Mans on Saturday to take pole position for the French Grand Prix.
The reigning world champion clocked 1 minute, 32.042 seconds on the 4,185-meter (2.6-mile) circuit to smash the previous record set three years ago by another Spaniard, Dani Pedrosa, by 1.575 seconds.   
Pol Espargaro of Spain and Andrea Dovizioso of Italy completed the front row for Sunday's race. Espargaro was 0.692 slower than Marquez, who has won all four races this season to lead the standings.   
Six-time MotoGP champion Valentino Rossi of Italy and 2012 world champion Jorge Lorenzo of Spain will start from the second row. Pedrosa is second in the standings but could only manage the ninth fastest time.   
In Moto2, newcomer Jonas Folger of Germany, who secured his first podium in this category at the Spanish GP two weeks ago, clocked the fastest lap. Spaniards Esteve Rabat and Luis Salom joined Folger on the front row.   
Rabat tops the standings, followed by Mika Kallio of Finland and Maverick Vinales of Spain. Kallio will start from fourth while Vinales will be on the third row.   
In Moto3, Efren Vazquez of Spain earned his first career pole position. Overall leader Jack Miller of Australia will start from second on the grid while Romano Fenati of Italy, who won the last two races, will be on the fourth row.   
The race will definitely stay at Le Mans until 2021. Le Mans promoters and MotoGP rights holder Dorna Sport SL agreed on a five-year extension for the French Grand Prix from 2017 to 2021.   
"We're happy to ensure the future of the French round of the world championship," event promoter Claude Michy said.   
Le Mans has been on the MotoGP calendar for the past 14 years.