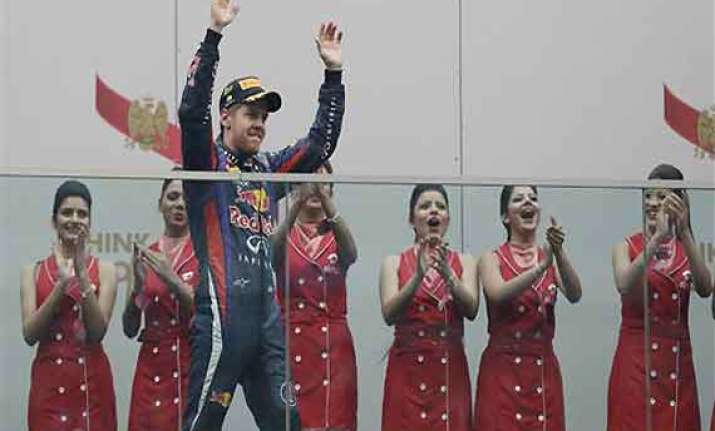 Greater Noida: Red Bull's Sebastian Vettel claimed his fourth straight Formula One championship Sunday after turning in a trademark clinical performance to win the Indian Grand Prix.
Starting from pole, Vettel again dominated the Buddh International Circuit to join F1 greats Juan Miguel Fangio and Michael Schumacher as just the third driver to win four consecutive championships.
Vettel finished almost 30 seconds ahead of second placed Nico Rosberg in a Mercedes, with Lotus driver Romain Grosjean taking his second straight third place after starting from 17th on the grid.
After taking the checkered flag, Vettel performed several donuts on the track before climbing from his car, acknowledging the crowd and kneeling with his head bowed to the track. He then climbed the pit lane fence to embrace members of his team.
With Vettel's win, Red Bull has also claimed its fourth straight constructor's title, despite losing Mark Webber to mechanical problems while in second place.
Ferrari's Felipe Massa was fourth with teammate Fernando Alonso finishing a disappointing 11th.
Vettel, at 26 the youngest driver to win four world titles, has now won 10 races this season, including the last six.
Starting on the quick but fragile soft tires, Vettel lasted just one lap before switching to the medium compound tires after just one lap, emerging from the pit lane in 17th place.
With Webber in the lead, Vettel wove his way back toward the front, gradually narrowing the gap to the lead, passing second placed Perez on the 22nd lap to move into second.
Once Vettel overtook Perez, it was only a matter of time before Webber would be forced to change tires and relinquish the lead. Webber eventually entered the pits for his first tire change to soft tires on the 29th lap.
Vettel made his second and last stop on the 32nd lap to take on new medium tires, returning to the track just over eight seconds behind Webber.
Webber failed to make up enough time on the soft tires before switching back to mediums two laps later, effectively handing the race to Vettel.
Red Bull ordered a stunned Webber to stop while in second place on the 42nd lap due to a problem with his car's alternator.
"Disappointing, but there's not much I can do," Webber said. "There was something wrong with the car, so we had to stop straight away."
With the Australian out, the race became a tussle for the lesser podium places, with pacesetting Rosberg passing Lotus driver Kimi Raikkonen for second on the closing laps.
Grosjean drove a dogged race to defy the odds and reach the podium after being eliminated in the first qualifying session Saturday.