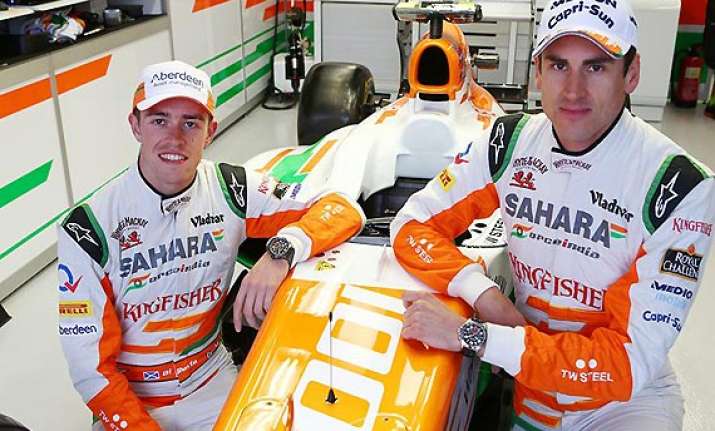 New Delhi: Force India drivers Paul di Resta and Adrian Sutil feel it will be tough for them to score points in the remaining four races of the Formula 1 season, including the team's home race this weekend.
The change in tyres post the British Grand Prix has hurt Force India, who have only scored only three points since the Silverstone race in June. The Indian team, which is sixth in the team standings with 62 points, has already lost the fifth place battle with McLaren and have the fast improving Sauber breathing down their neck.
"Scoring points will be very tough. We stopped working on the 2013 car long ago while the other teams are still bringing in updates. All we can do at the moment is set up the car in a way it has the right balance. Having said that, we will do all we can to get home some points especially in India," said di Resta in a media interaction here Tuesday ahead of the Indian Grand Prix.
The Scot is yet to finish in the top 10 in India while Sutil managed a couple of points by finishing ninth in the inaugural race in 2011. Current Sauber driver Nico Hulkenberg came eighth for the team last year.
Sutil explained why not much should be expected from the Silverstone squad for the remainder of 2013.
"We started the development of the 2014 car early and as it turns out we have sacrificed our fifth position for the potential gains next year. We have to be good next year," said Sutil, who along with di Resta is yet to sign a contract for next season.
The German further said: "No one could predict that the rubber composition will change post the tyre blow outs at Silverstone and affect us so badly. We will try our best in the next four races. We will fight hard to get some more points and maintain our position."
Di Resta chose to focus on the positives in tough times and said the team tried too many things to fix the car after Silverstone.
"We found the right balance in Suzuka and now the car is fast enough to get you close to Q3. We can still improve its set up but it all boils down to how we fare in the race. Hopefully, our rivals will make some mistakes," said di Resta, who finished 11th in Japan after qualifying a place lower on the grid.
Sutil summed up the point saying that the top teams not slipping down the order will help them.
"The top teams (Lotus, Ferrari and Mercedes) are making mistakes and gifting Sauber a lot of points. In the next races, if they get their act together, then it helps our case," he said.
Sauber are 17 points adrift of Force India, having amassed 38 of their 45 points in the last four races.