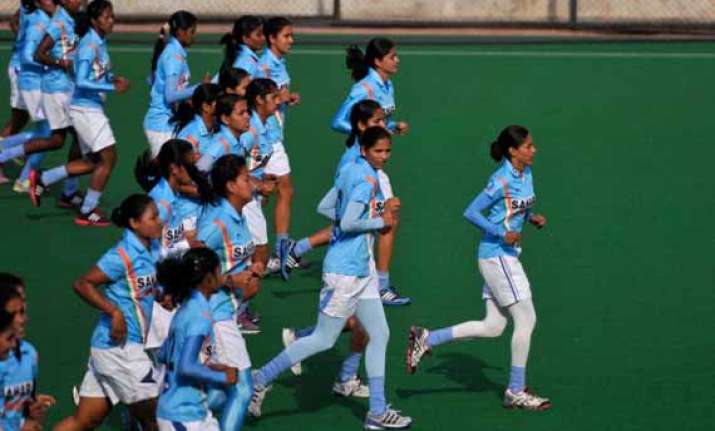 Glasgow: The mix of youth and experience will be the key for India when the women's hockey team starts its campaign against Canada in the 2014 Commonwealth Games here Thursday.
Both the teams have faced each other twice in the Commonwealth Games (2002 and 2010) and on both occasions India emerged the winner. Their last clash was in 2012 when India thrashed Canada 4-0.
India are ranked 13th in the FIH rankings while Canada are 22nd. But both teams will be eager to start on a winning note.
The focus will be on young Indian forward Ritusha Arya who has made her mark with 15 international appearances. She has complemented both senior forwards Rani and Poonam.
"Ritusha Arya with her 15 caps has proved to be a big threat to the defence of the opponent during our tour to Malaysia as well as the recent international matches that we have played," said Rani.
"During our preparations here, she looks in form and will soon be seen in action again. Poonam Rani and I are happy with her in the team as she has complemented our play on the field since the day she has made her debut on the international arena," she added.
India will also be pinning their hopes on goalkeeper Savita to continue her good form from the Malaysian tour.
Savita said the team is confident of a winning start against Canada.
"We have to be mentally strong and not allow pressure to take the better of us and which will help us to beat our opponents. Conceding goals will pressurise the team mentally and from my end I will ensure not to allow them to score," she said.
Chief Coach Neil Hawgood will have to ensure that the team doesn't lose focus on the field and delivers as per plans.
"While I am confident of the girls giving a tough time to Canada tomorrow, I am still keeping my fingers crossed. Though India has been in the best of forms in the recent past, we cannot forget that Canada with its young team is hungry to prove a point too. It will be their captain and forward Kate Gillis who we consider will be their key towards a good performance tomorrow and we are ready with our strategy for her. Our aim will be to have a winning start in the event and then maintain that momentum further," he said.