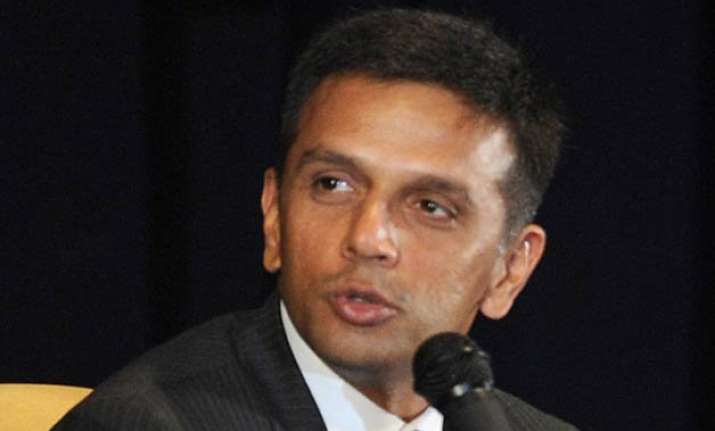 New Delhi: Former cricket captain Rahul Dravid feels that Indian woman boxer L Sarita Devi didn't do the right thing by refusing to accept the bronze medal at the Incheon Asian Games in October, last year.
Sarita lost her semi-final bout on a controversial point system to Jina Park of South Korea and on the next day refused to accept her bronze medal as she left the podium which led to a 1 year suspension from AIBA.
"I am not really aware about what the points system in boxing are. But yes, I am sympathetic about how she must have felt after losing the semi-final. But I don't think I supported what she did after 24 hours when she didn't accept the medal. I think that was not a right thing to do," Dravid said during an interaction with the audience at the inaugural TCM 'Sports Lecture', here today.
"You have to remember that along with you, there were three others at the podium also. They have also worked hard for this day and by not accepting the medal, you also didn't respect their achievements," Dravid, who has always been particular his conduct in public life said.
Asked whom does he consider the next 'Wall' in Indian cricket, Dravid replied in a lighter vein,"I wish no one gets that nickname. I believe it was someone in some newsdesk must have given me that nickname with an eye on future headlines. 'The Wall' then became 'The Wall is crumbling' and 'Another Brick in the wall falls'."
He said that Abhinav Bindra's gold medal at the Beijing Olympics worked as an inspiration for him when he was really going through a low phase in his personal career.
"Bindra's achievements helped me dig deep into my reserves," he said.
He said that he had recently read an 'Ernst and Young' report about the 'Dhoni Effect' which spoke about the growing affluence among young aspirational Indians in the hinterlands.
"Actually 'Dravid Effect' was when you scored at less than run-a-ball," he did make a tongue-in-cheek comment.