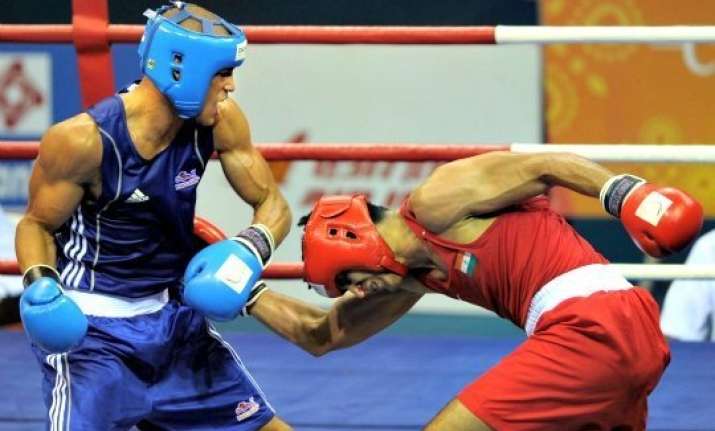 Incheon: India's campaign in Asian Games boxing ended Thursday with Vikas Krishan and Satish Kumar settling for the bronze medals after losing their respective semi-final bouts to Kazakhstan pugilists at the Seonhak Gymnasium here.
In the men's 75 kg category last-four match, Vikas went down to Zhanibek Alimkhanuly while Satish, plying his trade in the ᄧ kg, lost to Ivan Dychko.
Vikas, the 2010 Asiad champion in the 60 kg category, lost 1-2 in a split decision despite starting aggressively. He won the first round 29-28 but lost a closely fought second round 28-29. Alimkhanuly dominated the third round with a perfect score of 30-27, which facilitated the Kazakh's move to the final.
Overall, the first judge awarded 29-28 in favour of the 22-year-old Vikas but the second and third judges gave 29-28 and 30-27 which sealed it for Alimkhanuly.
In the other semi-final, 25-year-old Satish, up against a taller opponent, lost 0-3 in an unanimous judges decision as the Indian fell behind in every round.
Because of Dychko's better reach, World No.6 Satish had to maintain a safe distance and yet find a way to penetrate the Olympic bronze medallist's defence but it was an uphill task for Satish from the outset.
Though the Indian fought valiantly but he lost all three rounds 27-30, 27-30 and 26-30 to the World No.2.
With the duo's medal, India, who won nine medals in the 2010 Guangzhou Asiad, bagged five medals from the boxing ring this time around.
Among the women, M.C. Mary Kom won gold in the 48-51 kg category while L. Sarita Devi had to be content with a bronze following her controversial semi-final loss in the 57-60 kg competition. Pooja Rani also earned a bronze in the 75 kg category.