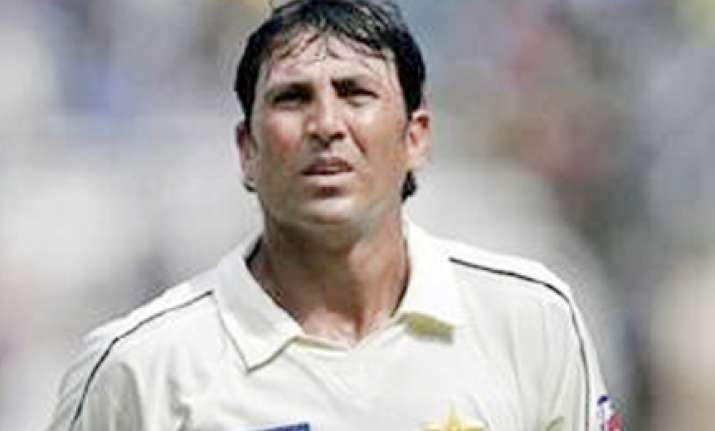 Younis Khan made it clear on Thursday to the Pakistan Cricket Board that he would withdraw his resignation from the captain's post only if he is retained at the helm till the 2011 World Cup. 
Younis, who resigned two days ago after being accused of match-fixing by the National Assembly standing committee on sports, met Pakistan Cricket Board chief Ejaz Butt and said if he was to remain as captain he would want the job till the next World Cup. 
A top PCB source confirmed that Younis and Butt had a long meeting and the senior batsman, who was being asked by the PCB chief to take back his resignation, made his stand clear. 
"Younis told Butt that he is not taking his resignation back until all his conditions are met by the board, the most important being his appointment as captain on a long-term basis," said a PCB source. 
"He wanted an announcement that he will be made captain until the next World Cup so that some players who harboured ambitions of replacing him got down to concentrating on their game," he added. 
The source disclosed that Younis had brought to Butt's notice the intrigue by some players and officials to replace him as captain and also conveyed his disappointment that the PCB chief preferred to meet vice-captain Shahid Afridi, the manager and coach separately to discuss the Champions Trophy performance. 
"Younis also told the chairman that he was disappointed that the board didn't come out with a clear statement in favour of the team when the allegations of match-fixing were first made against them and taken up by the chairman of the National Assembly standing committee on sports," the source said. 
Although Younis submitted his resignation to the PCB chairman during the hearing of the NA committee to protest over the match-fixing allegations and the team and the remarks by the committee chairman Jamshed Dasti, sources said the crisis ran deeper. 
The Dawn newspaper reported that some players were not getting along with Younis since the tour to Sri Lanka this year and they also planned a revolt if the board didn't accept the resignation by Younis. PTI