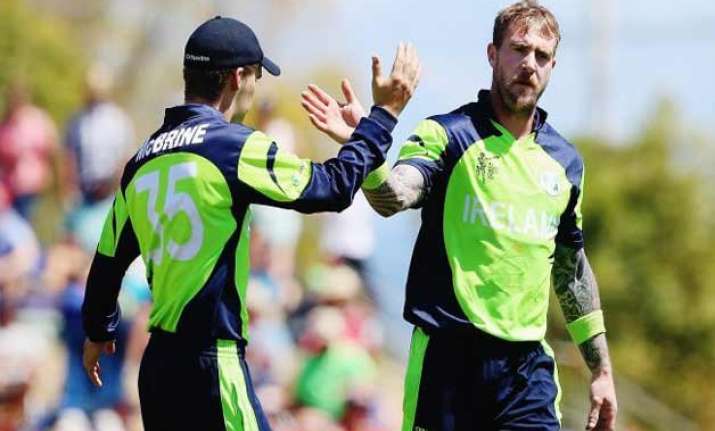 Adelaide: Ireland's pacer John Mooney on Thursday said he is not affected by a Zimbabwean newspaper article that his country's cricket board has slammed as a "vicious personal attack" on him, and that he is focusing on his team's must-win World Cup Pool B contest against Pakistan.
Published in the Zimbabwe Herald, the offending article made a connection between Mooney's battle with depression and his honesty over a contentious boundary-line catch he took in Ireland's narrow win over Zimbabwe last Saturday, reports cricket.com.au.
Last year, Mooney spoke openly about his mental illness in a bid to raise awareness about the issue among other cricketers.
Mooney posted a comment on his Facebook page that the article "means absolutely nothing to me".
"Thank you again for all your support, that man's article means absolutely nothing to me. My only concern is beating Pakistan on Sunday," he said.
Mooney has played all five of Ireland's matches at this World Cup to help them move to the brink of a berth in the quarter-finals.
Victory over Pakistan at the Adelaide Oval on Sunday would see the Irish qualify for the quarter-finals for the first time, while a loss will likely see them finish fifth in Pool B and miss the knockout stages.
"We have some good time to get ready for what will be the biggest game in the history of Irish cricket. Trust me; we are all so pumped for this it's going to be great either way," Mooney wrote.
On Tuesday, Cricket Ireland said they were considering "possible action" over the Zimbabwe Heralds tory and had contacted the International Cricket Council (ICC) about a possible course of action.
Zimbabwe's stand-in captain Brendan Taylor issued an apology to Mooney on behalf of his team. Mooney thanked the African outfit for its gesture.
"Last night I texted Brendan Taylor to thank him and his team for their apology. They are great blokes and they didn't have to do that, because I know the man who wrote that article does not represent their team," Mooney's post read.
He, however, was worried journalist Robson Sharuko's article would deter other sufferers from talking about their mental illness.
"The main thing that gets to me about his article is that it might prevent somebody from getting the help they need in the future," he said.
"The reason I spoke to the press about my struggles was to promote mental health issues. Using the fact I'm a sportsman to reach people who feel they can't tell people their problems."
The 33-year-old Mooney said he was relieved after revealing the truth.
"Let me just say the day I told people my issues I felt a huge sigh of relief. I don't want people to see this terrible article and say 'oh I'm not telling anyone, people will slag me off, or my name will be tarnished'."
"People will help you, people who you least expect will give you strength. Life will get better not worse," he said.
"I really wanted to get through this tournament without writing anything on mental health as I've been so focused on my cricket, but unfortunately I've had to do this short piece."